May 3, 2013
Cocoretto Chocolates Selection Box Reviewed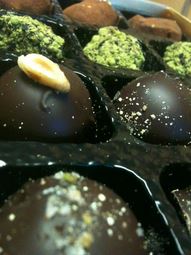 I love trying new chocolates and these were an absolute treat. Made with Valrhona chocolate, these truffles are beautiful. You can see the colours and different textures that you are in for as you gaze over the boxes content. The company Cocoretto has an absolutely beautiful site, making it really easy to buy chocolates.
The Cocoretto company was launched only in December of 2012 and it seems to be going from strength to strength. They sent me this complimentary box which got hidden in my desk drawer at work so I could dip into it any time I wanted. The interesting thing is that Steven who runs the shop makes even his candied fruits and pistachios himself so the pistachio truffle he sent me was absolutely hand made. No bulk-bought fillers here!
Cocoretto sent me a box of only 4 truffle flavours but they have a heck of a lot on offer on their website HERE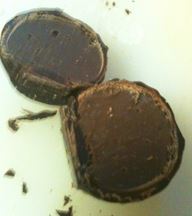 Amaretti – Smooth and creamy milk chocolate and amaretto ganache enrobed in a crisp dark Valrhona shell finished with a pine nut giving it a crunch. The flavour was distinct but not too strong. You could absolutely tell that this was amaretto without simply tasting of alcohol and almonds. The blending was brilliant and the flavour was perfect.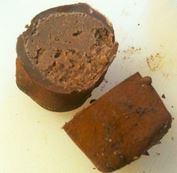 House Truffle – This was a smooth, mild flavoured truffle. Simple, high quality ingredients are fused together to create a creamy and luxurious milk chocolate ganache which is then enrobed in milk chocolate and dusted in cocoa. I loved the flavour and thought the cocoa powder added a little edge. This was a real crowd-pleaser.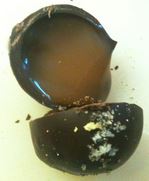 Sea Salt Caramel – probably my favourite chocolate. The caramel was, as you can see, really runny. This was a clearer and looser caramel than I was used to but still delightful. I'd absolutely suggest taking it in one bite unless you don't mind a face covered in lickable caramel 😉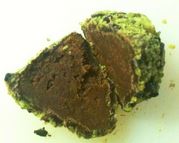 Pistachio – this is the one I was least sure of but was still delicious. I'm not a massive fan of nuts and this was absolutely brilliant. It tasted of the pistachio but not too strongly. It was a good, clear natural flavour, without being too overpowering. There is a clear chocolate and a clear pistachio flavour and they do mix well.
Overall this was a box of absolute crowd-pleasers. Everyone is going to love several of the chocolates in this box and as they are made with Valrhona chocolate you know the chocolate is quality. These chocolates are made with quality chocolate, by someone passionate about chocolate and it's all by hand. Safe chocolates everyone is going to love so buy a box as a hostess gift! BUY ONLINE HERE