July 4, 2013
Marou Tien Giang Organic 80 Dark Chocolate Bar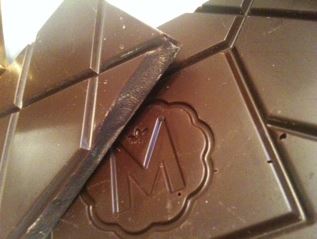 Cacao in Vietnam has an interesting history, mainly steeped in impatience. It is amazing to see the huge amount of cocoa coming out of this country considering that twice cocoa plantations were tried and failed and were destroyed or simply failed to take off. In the past 10 years, however, cacao and specifically the stuff coming out of Vietnam has benefited from a number of things which has swung the pendulum in its favour.
One of the positive things helping Vietnam cacao for example is that international trading companies, NGOs and public development aid have all invested in the development of cacao in Vietnam. This means that suddenly there has been, unlike when cacao first was being introduced to Vietnam, that it had a fighting chance of surviving and thriving.
Additionally, any programs now support the efforts of the smaller farmers, not just the large plantations, in a number of provinces. This has meant that the people in Vietnam who are truly passionate about growing the best cacao in the world are being supported in their development and therefore can supply some of the best cacao in the world to the market.
Chocolate makers have also shown an interest in Vietnamese cacao beans with renowned makers like Franck Morin and Demarquette making limited edition Vietnam origin chocolates as well as Scaffenberger creating a single limited edition bar.
On the back of all of these points, Marou is aiming to make Vietnamese chocolate a widely recognized origin for gourmet chocolate. With the first artisan chocolate maker based in Vietnam, and working in close collaboration with farmers, cooperatives and cacao experts, they are poised to not only create great chocolate, but bring terroir firmly into chocolate making alongside Hotel Chocolat.
But we're not just here to understand more about the chocolate – we want to know about the taste! Well, it was interesting – I get more black tea with this one then a kind of woody note which is spicy in the sense that it related to spices – not that there is a heat to it. This then leads to some drying of the mouth which I associate with bitterness. It leaves the chocolate for me in the very coffee notes, there is an underlying fudge brownie chocolate flavour.
All in all an interesting bar. The flavours are really all over the place but it's brilliant. This is the kind of bar that is challenging but well worth it plus it supports a great company doing great things! You can buy this from Chocolatiers.co.uk and other fine chocolate outlets 😉