July 5, 2013
Soma Chocolate Maker Almond Clusters Reviewed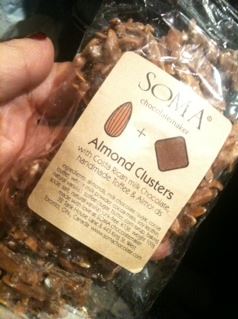 Help! I'm addicted! Please help me – I can't stop eating these milk chocolate, almond and HANDMADE TOFFEE! My goodness this is a little bundle of addictive awesomeness. I seriously cannot stop. The sweet Costa Rican milk chocolate is thinly coating a cluster of thick slivers of almonds and toffee.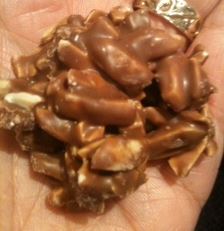 Rocher apparently comes from French and means "rock". The confection is named for the rochers or spectacular large rocks off the coast of France that have been the bane of shipping for centuries. I can't actually find too much about the history of rochers but they do seem to be made absolutely everywhere, generally from slivers of almonds.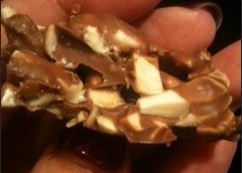 What can I say? I'm in a fog – a haze of delicious goodness. In Huxley's futuristic utopian novel "Brave New World" Soma is the substance that is supposed to have the effect of modern drugs, yet no side-effects. I have to admit, my senses are not dulled and the side effect of eating a few bags of these would be possibly an expanding waistline. Really need more…
These are delicious but really, buy a few bags. Maybe mail me a few. Of all the rocher I have tried, all over the world, this is my favourite.