November 19, 2012
Valrhona Dulcey Chocolate Bar Review – Win A Bar!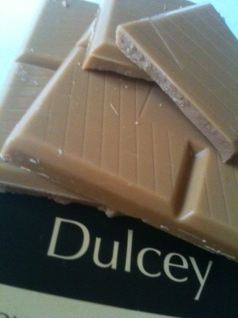 There has been some conversation and debate among people in the chocolate world about whether or not this new bar from Valrhona is an actual chocolate bar. To begin with it is white 'chocolate' and secondly there is something that has been added to it in order to make it what it is.
Valrhona have been one of the pioneers of high quality chocolate. They have worked with farmers to improve quality, they have worked hard to make quality chocolate and they have even pioneered the crand cru vintage year chocolate. Amazing company that does really amazing things.
It has also had some negativity aimed against it. Some chocolatiers feel they are trying to steer coverture into a monotone flavour profile with their Caribe coverture. Some feel they are trying to squeeze others out. Every larger company has some stones cast against it and I suppose as smaller companies get larger, they will have similar stones cast against them.
So Dulcey, besides being the name of one of my father's secretaries in his legal practice, is already creating waves in the chocolate community. It is aimed at patisserie chefs who are looking to expand their ranges and need a supporting chocolate. Butter in chocolate, like oil, does not seem to be a natural fit and yet if Cadbury can remove cocoa butter and replace it with oil and sell millions why can't Valrhona add caramelised butter to cocoa butter and create a new chocolate bar and coverture?
The taste has made some recall Caramac, which we never had in Canada as far as I am aware. It, of course, could never hold a candle to Dulcey.
Dulcey is a creamy bar with a delicious caramel flavour. It has a good mouth feel and a lovely sweetness that balances off well against the coffee I was having. There is a slightly burnt sweetness to it which I kind of like.  I'm not going to get in to the debate about whether this is real chocolate or anything but merely comment on the flavour – which I like when I want sweet. Which is about now, when I'm reviewing it.
You don't have to take my word for it though. I have a bar to give away to someone who is subscribed to the blog and leaves a comment below telling the world what their favourite chocolate is and why in 10 words or more.
The rules:
1.The competition will finish at noon GMT on Friday 23rd November 2012.
2.The selection of winner will be selected by Random.org from those who are both subscribed to the blog and leave a comment over 10 words about their favourite chocolate and why.
3.Only available to UK mainland addresses.
4.No cash alternative available.
5.I reserve the right to exclude entries that I feel are inappropriate or not in the spirit of the competition.
6.Your details won't be passed onto anyone else and will not be kept in any way.
7.I reserve the right to remove entries that I believe aren't human created or are an attempt to gain an unfair advantage such as automated entries.