November 20, 2012
Divine Chocolate Advent Calendar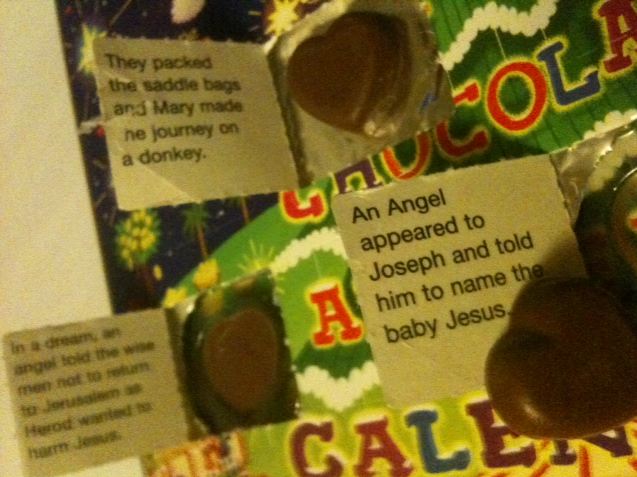 I love the Divine chocolate company and this is a great chocolate advent calendar from them. They have come a long way since the old days when the chocolate used to have bits of unmixed sugar in it. I used to use Divine in my weight-loss regime as I was low carb-ing and their chocolate ad so low a sugar mix that I could eat a whole bar a day (I didn't but it was a nice option).
Divine also have something which helps them stand out from the crowd – they are actually a co-operative of farmers in Ghana who have come together to make chocolate and sell it direct to us. While it may not seem like it, when you buy Divine chocolate you are actually buying direct from farmers and helping them make a difference to their families and community.
While Divine are doing great things for ethical chocolate (this goes far beyond Fairtrade which simply gives farmers a bit more money), they are also doing great chocolate. This isn't going to be award-winning chocolate for its complexity of flavours and subtle notes but it is going to have mass appeal and that is exactly what you want in an advent calendar.
This is a rather thinly packaged calendar to ensure you are creating less waste and that you aren't paying for unnecessary packaging. Everything is created with the environment in mind as well as the chocolate as the farmers who make this chocolate are keenly aware of the impact garbage and pollution cause to their precious chocolate crop as well as price. The greater the packaging, the greater the price and Divine would rather you get more chocolate.
This calendar has their delightful milk chocolate in it with fun shapes in the spirit of Christmas. This advent calendar would appeal to perhaps the more traditionalist with a nativity in their home. The package design and each day brings less commercialism and more spirit of Christmas with it.
If you can grab this advent calendar then do. You'll be doing more than buying some great chocolate – you'll be helping a farming co-operative in Ghana make a difference to their lives.