February 5, 2013
Valentine's Raspberry Caramel Hearts by House of Dorchester Reviewed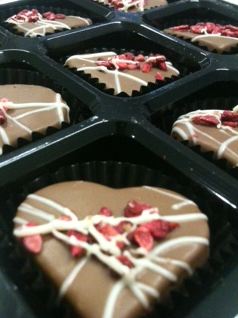 There's something lovely and traditional about receiving a box of chocolate hearts. It's Valentine's without you having to shout it. Getting something that is a bit different. Most people like something sweet so it is important to make sure that you get the right chocolate for the palate of your sweetheart.
House of Dorchester make their chocolates from coverture, so while they aren't bean to bar, they work hard to create unique chocolates that still taste great.
Their latest creation that I have been fortunate enough to try is their raspberry caramel hearts. With dried strawberry pieces on top, a sweet milk chocolate heart-shaped shell and a caramel inside, this is just something a bit different for your Valentine this Valentine's Day.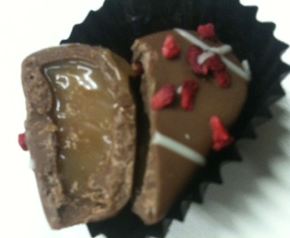 These are slightly sweet for me but the office demolished them. They loved them. I caught a slightly strange nose, I thought, of something a bit flat or maybe a tiny bit chemically but no one else could taste it and the office are becoming a bunch of chocolate snobs after all the chocolate they've gotten to try!
So the verdict of my office filled with normal folk who don't spend hours a day tasting chocolate and therefore are more likely to reflect real people? They wanted more!