February 6, 2013
Chocolate Tasting Club Reviewed – Treat Yourself or Someone You Love to Monthly Chocolate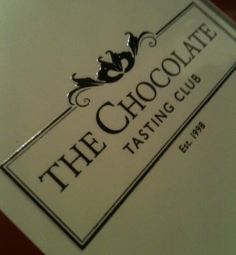 There was once a time a long, long time ago when I was part of the chocolate tasting club. We got a box every month but husband and I were having trouble finishing it, and there were some we didn't like so we swapped to once every two months. That's something I liked about the chocolate tasting club – you could change how often the chocolate got delivered.
As a past member, I am bombarded a bit with delicious-looking  pamphlets that have images of new and favourite old chocolates that look good enough to eat. If I ever need to go on a high fibre diet I might eat those pictures 🙂 More than once I have been tempted to re-join, but with all the chocolate I buy and get sent to review I just can't justify it. I want to, but I just can't justify rejoining to husband.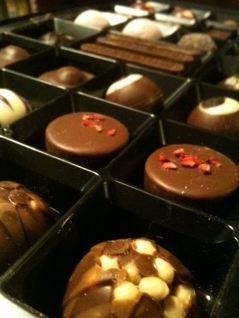 Imagine my pleasure when I got contacted by the chocolate tasting club to get me to review one of their selections. I couldn't say yes fast enough but then I suffered a loss in my family so while I photo'd and reviewed it, the review languished until now.
This is, I think, an amazing gift for a birthday or imagine a Valentine's Day gift of a year of chocolate – whether once a month, once every other month or once a quarter, this is the gift that keeps saying "I love you SO MUCH I give you chocolate!" It also gives the recipient the perfect excuse to invite the giver over to share in the wonderful bounty of the chocolaty love. Give a gift that keeps on giving – don't spend all that money on a single box but one that comes fresh regularly!
The chocolates are going to be constantly changing. I doubt you'll get the same selection twice as Hotel Chocolat are constantly changing their own range, which is massive. You used to get to try chocolates before they come on to the market and even help HC decide whether or not to launch a particular flavour.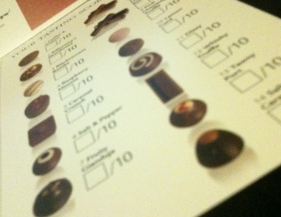 Not only are you able to try all sorts of chocolate each month (or however often you opt for), you also have the chance to RATE the chocolate! That's right – you're not just getting a wonderfully different selection every month but you're able to provide feedback and you may even be part of creating a change for the better at Hotel Chocolat. Imagine helping them refine a recipe or add a new product – all because you were part of the Chocolate Tasting Club.
I have always liked the idea of the Chocolate Tasting Club and I think about it often. If I wasn't reviewing so much chocolate all the time, I probably would re-join the Chocolate Tasting Club on an every-other month basis again. While sometimes we didn't like the selection, or even finish it most months, it did give us the perfect excuse to at least try. I can't imagine a nicer gift.