February 7, 2013
Lucky's London Pop-Up Shop aka The Rabbit Hole down which you disappear reviewed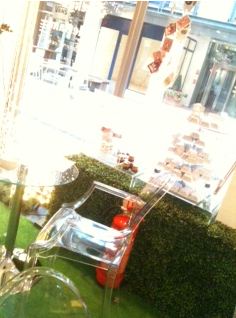 With Valrhona chocolate thickly enrobing honey cake or gorgeous brownies, you can understand why Lucky's make some of the most sought after chocolates/brownies/cakes in London. Available at Harrod's, Lucky's is a quality brand themed for Alice in Wonderland.
You may have read my reviews of their brownies and cakes completely and thickly enrobed in chocolate before. With Valrhona chocolate completely covering the delicious cake inside, you know that you are getting quality ingredients. Add to that the passion and commitment of the pair behind the brand and their infectious positivity cannot help but ooze through every gooey bite of the Lazy Rabbit with Baileys or Midnight Madness with mint.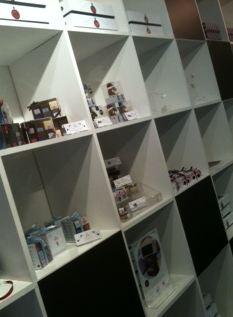 If you've wanted to try Lucky's and just haven't been able to pop by Harrod's of a lunch hour, or if you've gotten so distracted by the other chocolate you forgot to buy some Lucky's well, you're in luck (so to speak)!
Lucky's have had a small pop-up shop in Kingly Court – land that everyone cannot find just off Carnaby St – since just before Christmas and they're going to be there for a short time longer. Be fast through – this amazing grass-carpeted venue isn't going to be open for long!
You can try a wide range of excellent hot chocolates, their signature mini or full sixed chocolate enrobed cakes and I think they are also going to have a wide range of desserts. It is difficult to find though so it'll probably be quiet if you visit. You go just around half way down Carnaby St and off to one side (the right if you're coming from Oxford St) will be an entrance way with plant pots outside it and a sign over the entrance saying it is Kingly Court. Go through that short passage and you'll be in a quiet courtyard. Directly opposite should be Lucky's.
You can fall down the rabbit hole only until Valentine's Day so be fast!