April 9, 2014
Thorntons Fudge Brownie & Raspberry Cheesecake – Two New Easter Eggs Reviewed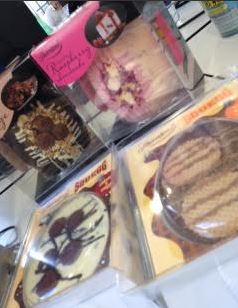 For a few years now, Thornton's have been releasing what I've been calling 'stained glass window' eggs. These Easter eggs are all chocolate, sometimes with inclusions, that have a feature window as part of the egg. This feature window displays the unique flavours of the egg in style, whether with banana chips, fudge pieces or bits of cookie. This makes it a bit more posh and a bit more of an adult egg (excellent excuse to buy one for yourself).
Each year, Thornton's releases a new set of flavours which seems to capture the prevailing popularity of certain desserts. Where in the past is has been Lemon Meringue or Banoffee pie, this year there are two new eggs on the block 😉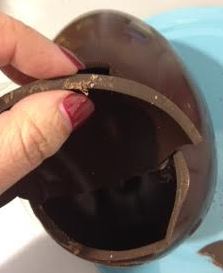 Both these eggs are a massive 425g meaning you are giving someone almost half a kilo of chocolate. This is not an insignificant amount of the sweet stuff I might add and yet you get some significant deliciousness for your cash.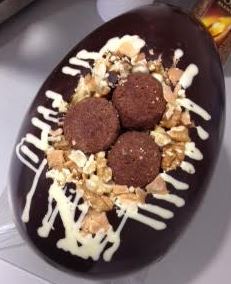 Fudge Brownie – Where do you go with fudge brownie besides a rich dark chocolate? I mean, what is it besides cake? Well, Thorntons have included chunks of brownie biscuit pieces, walnuts and fudge and used them to create a feature window. This dark chocolate egg has the typical scent of West African cocoa beans – that nutty scent that is absolutely typical. Sadly not my favourite but the office went back for seconds (and thirds) so I feel it is a safe bet a LOT of people will like this egg. The brownie bits and walnut are a nice addition. While I'm not a massive fan, it's because of personal preferences rather than anything being wrong with the egg. Interestingly the feedback from the office was "it just tastes like chocolate". Clearly the Squeggs and the Raspberry Cheesecake spoiled them!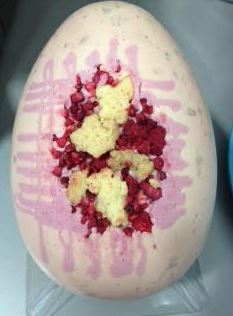 Raspberry Cheesecake – With crunchy biscuit crumble and freeze-dried raspberries (I think) this egg is absolutely sweetness with a tarty edge 😉 I got a little bit of a yogurt smell in there but lots of raspberry bits which I love. They are so sour and a great counterpoint for the white chocolate. The biscuit was soft, not hard so that was a pleasant discovery when I tried it. I actually enjoyed this egg and of all the eggs tried by the office, this came in second (the cookies & cream Squegg was the top winner in the office taste test).. So for people who aren't really that in to chocolate or who get migraines from cocoa, this would seem to be the perfect alternative to the Fudge Brownie.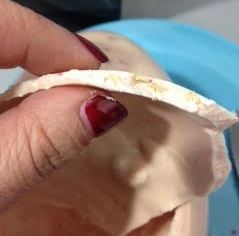 If you're looking for a large Thornton's egg (you can get a 1kg milk chocolate egg or a 1.1kg bunny if you're keen) which is manageable by one or two people, then this range of dessert-inspired eggs is going to be a winner. There are a range of flavours beyond the two new ones I've featured here. The flavours are as varied as people's palates and enjoyable by young and old alike. If you're looking for a Thornton's egg this year (other than the 1kg milk chocolate egg that is and really – WOW), why not try one of their new ones? Undecided? Get a 1.1kg bunny or a 1kg milk egg and call it quits (for the next week as you recover from your sugar coma). 🙂