April 5, 2012
Thorntons Banoffee Pie Great British Puds Easter Egg Review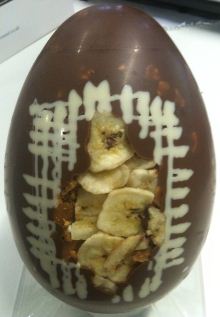 Ummm… OK, I know I'm not supposed to love this egg but I do. Yep, I love this egg and it was sweet yummy goodness. This Thorntons Banoffee Pie Easter egg is sweet yummy gooness with toffee goodness and banana goodness.
So why do I love this egg?  Well, the stained glass window has slices of banana and pieces of Thorntons Special Toffee in the front, with pieces of Special Toffee also speckling the shell. I think it is the toffee in the shell that has driven me a bit batty here.
I was happily enjoying the banana slices with the toffee and milk chocolate and then I took a bit of the shell.  You can see the darker flecks in the shel but it isn't until you bite into it that you actually realise what it is – toffee!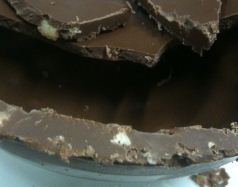 Yep, this is an egg for the sweet-toothed among you and at times I am unashamed to admit that I have a very sweet tooth. I enjoy a bit of sweet milk chocolate and to marry that with the sweet toffee which gives it that bit of extra texture – well, sweet yummy deliciousness all around!
If you know someone with a sweet tooth who loves toffee and milk chocolate, this is going to be their favourite egg!