April 4, 2012
Montezuma's Super Thick Half Dark and Half Milk Chocolate Egg with Truffles Review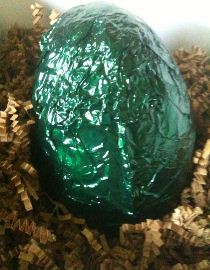 Helen and Simon founded Montezuma's in 2000 hand making their chocolate with one little machine from one shop in Brighton. Since those early days Montezuma's is now established as one of Britain's innovative family chocolate maker with a reputation far wider than a handful of shops and network of lovely independent retailers.
A double thickness half milk chocolate, half dark chocolate egg filled with truffles.  Super Thick Half Ecuador Dark and Half Venezuelan Milk Chocolate Egg with Milking Maid and Eclipse Truffles this was quite different from other eggs I had reviewed.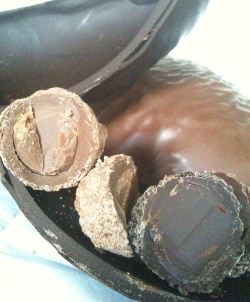 The dark chocolate starts with a bit if fruitiness but there is a drying, tannin edge to it which I wasn't expecting. The chocolate flavour is distinct with a slight acidity in the chocolate.  This dark chocolate reminds me a lot of Divine's but where Divine is a little flatter, it also doesn't have the drying tannins which I think, for me, lessen my pleasure. But some folk are going to enjoy this much more than other eggs.
The milk chocolate is quite sweet with a real malted edge, making this the lighter, sweet side of the egg. I know a lot of folk, myself included, love indulging in a bit of milk chocolate time. There's nothing wrong with liking milk chocolate but dark chocolate is going to help you lose weight more easily having less sugar.
The truffles were not my favourite part of the egg I must admit. They were possibly just not to my taste and frankly, if everything were made to my taste there would not be as much fun in the world, right? Everyone is different and unique and some of you are going to dig on the drying, almost bitter dark chocolate while you share it with your milk chocolate loving partner.  This is an egg for sharing for sure as it is super thick – much like a Hotel Chocolat egg but I think not quite as thich however it is layered which I think is kinda cool.
A completely self-indulgent treat for the grown-ups this Easter and at £17.99, not a bad deal. The packaging is also not only totally recyclable, it also has been made with vegetable-based ink and other environmentally-friendly elements.