April 4, 2012
Pink Marc de Champagne Truffle Easter Egg Review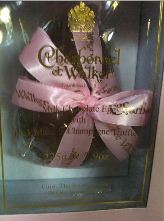 Well, this is absolutely stunning and available in the shop so you can go now and grab this  Pink Marc de Champagne Truffle Easter Egg because it is from one of the most popular names in chocolate and comes filled with their best selling truffles and comes in three great sizes.
The nice thick chocolate shell has a pattern. I tried to break the pieces of the shell off based on the pattern but the pieces were bigger… oh dear… I'll have to eat them… 😉 and the perfectly shaped and moulded egg shell isn't the only part of this egg that you get though.  I know that it seems small but I think you're not seeing how deep this box is.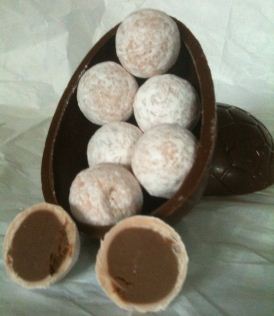 Wow… the secret of the egg is sealed inside and if you look you'll find a bunch of truffles. Thi sis already a big egg and it is only the middle size. There is a smaller size if you want one that is just big enough for truffles and a ring or something and then there is a larger size which comes with even more truffles.  How many pink champagne truffles do you want to gift your Easter egg recipient with? You have a choice here and it comes with so many truffles of sweetness and champagne-ness.
This egg is amazing. Beautifully finished egg shell that are just perfectly beautiful with the truffles hidden inside – just like an Easter egg should be. And those pink champagne truffles – they are best sellers for a reason so get your bottom down to the shop or a Charbonnel et Walker outlet like Harrods and get yourself a smashingly good egg!