April 5, 2012
Aldi Choceur Flame Egg Review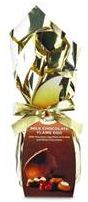 I know you guys dig on those Moser Roth chocolate 'balls' that are really egg-shaped and only on sale from September to April.  They rock to much!  Well, this too is a seasonal product on sale until Easter so grab it fast before it goes away.  In fact, this is so inexpensive that you could actually buy 10 or a dozen.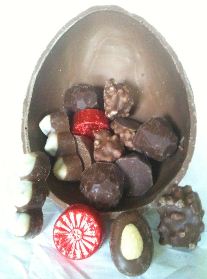 The milk chocolate is sweet and has a different flavour to it I simply cannot identify. There is something slightly weird. I'm not sure if I like it or not – it's hard to place a finger on. I'm not disliking it but I think I'm neutral on it. The little chocolates inside are OK but they are sweet so were a bit much for me to eat. I like the way the nuts cit through the sweetness but I think this is definitely an egg for a kid with a sweet tooth or an adult with one. I don't think that any of the chocolates have alcohol in them so you're safe giving this to a kid (though I'd give it to them in an outdoor space 🙂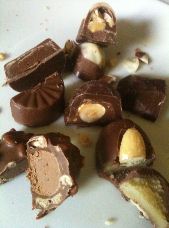 The chocolate kind of reminds me of Ferrero Rochier I think. At 350g for only £2.99, with chocolates and the chocolate egg it's going to be difficult to find something better for the same cost.  They say "Aldi's Choceur Flame Egg is a real treat this Easter. Perfect for sharing, the chocolate egg is enclosed in decadent gold foil and has a selection of delicious milk and white chocolates at the centre." I say that while I like it I think I'd pick up a box of the Moser Roth truffles which are like little eggs and enjoy those.
This egg is going to be great for kids though or for sharing. If you have a sweet tooth, go for it!