April 10, 2014
Thorntons Squeggs Squashed Easter Eggs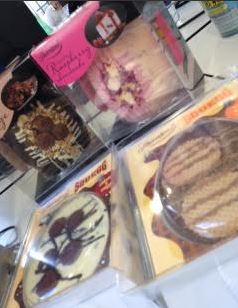 I think the idea of a Squegg is absolutely cute. The idea of a Thorntons Easter egg squashed into a single solid slab of CHOCOLATE is something that will send most kids running away until they realise how much MORE chocolate there actually is.
That's right kids – I'm giving you a bit of tactical advice here. If the Easter bunny has given you a budget and you can choose anything you want, check the weights. Some large hollow eggs are quite light (unlike the Thornton's Gigantic Egg which I reviewed last year and is available again this year. TOP TIP kids – it's a kilo of milk chocolate and nothing else – YUM!) and some are heavier. If you want to get a significant chocolate return for your money, check weights.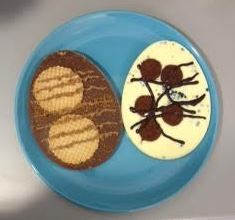 Now, of course I'd prefer that the chocolate was sourced from an ethical company. I am, however, a realist and I have to embrace the fact that you, my dear readers, likely think I'm a bit nutty anyway and so may not have read my Huffington Post article (or did and ignored it 😉 ). You deserve to know of the new Thornton's Squeggs, what tastes like what and which is best (Cookies & Cream – just sayin').
The first thing I pointed out is something I really want to draw your attention to. This egg is 154g of mostly milk or white chocolate with some added decoration. There are two different flavours but the thick slab of milk or white chocolate is definitely something to take note of. Aside from the glorious thickness of this squegg, there are two flavours which are new – well, the range is new so obvs the flavours are new 😉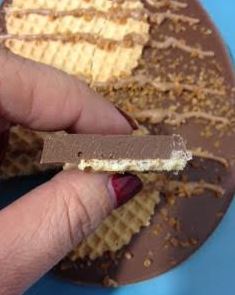 Toffee Waffle & Cinnamon – milk chocolate, toffee waffles – it's like toffee waffles visited a chocolate factory explosion. The milk chocolate is so thick I'm thinking it's going to be a glorious mess of handprints and messy faces Easter afternoon. I wasn't as fond of this one as I had hoped – perhaps I built it up too much in my own mind. The cinnamon was subtly and the wafer was crisp – both pluses for many people. The toffee pieces were sprinkled liberally around and there was a good thick slab of milk chocolate. I just have to admit of the two I wasn't quite as keen on this one.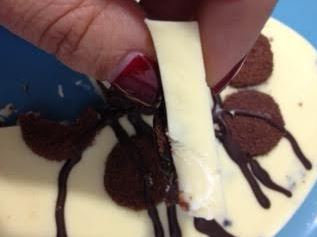 Cookies & Cream – White creamy chocolate with chunks of chocolaty biscuit crumbled into it, decorated with biscuit sounds divine and for the white chocolate lover in your life, this will send them into a blissful sugar coma for the rest of Easter – well, after they bounce themselves off the wall from sugar 😉 The office and I loved this one. In fact, of the 4 Thornton's eggs we tried, this was the overall favourite. The whote chocolate wasn't too sweet despite being the cream for the cookies and cream. Yes it was heavily vanilla but it was also creamy. The cookies studded throughout were crunchy and delightful and the overall experience was delicious and moreish. I loved it, the office loved it, you'll likely love it.
So overall while the Toffee Waffle & Cinnamon I thought would be my favourite wasn't, the two flavours definitely have appeal depending on your particular tastes. They are sweet but that's surely what Easter is all about for kids. They may look compact but they do have a significant weight of chocolate and at £5.49 they are a bargain. BUY SQUEGGS ONLINE or pop in to a Thorntons shop but be quick as I predict these will go fast!