December 30, 2014
Thorntons Cocktails Chocolates Reviewed
I love cocktails – a well-made cocktail can make all the difference to an evening. Whether it is a Peach Bellini made with a brilliant fizz, a frozen strawberry daiquiri in the summer to freeze my brain or a White Russian to keep me awake with a bit of bite, a good cocktail is a pleasure.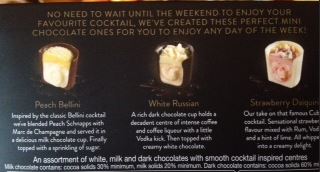 Thorntons have taken these three absolutely classic cocktails (well, classic in the sense that I like them and they seem to be on many menus) and created brilliant chocolates from them! Each cocktail has been replicated in chocolate and is absolutely perfect for people liking for something a bit different this holiday season.
The box of chocolates comes with three chocolates of the three cocktails. Each is different and unique but since there are three of each there will be no fighting and everyone can try one 😉 Everyone being me and me and me.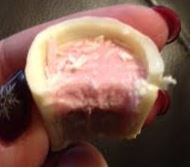 Strawberry Daiquiri – forget breaking it open and photo'ing it – I took a delicious bite. It's *very* sweet but absolutely strongly strawberry with a cap of chocolate keeping the mushy insides inside.  I'm not getting as much of the rum as I would have hoped but there is absolutely an alcoholic kick in this chocolate. Very sweet, very strawberry and not too aggressively alcoholic.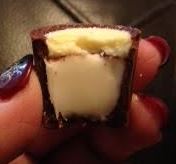 Peach Bellini – oooo – I thought the chocolate might drown the peach but it comes through with a hint of the marc de champagne.  It isn't as sweet as the daiquiri but still super peachy with a sprinkling of sugar on top. I can see these disappearing first actually as they are subtle and not too strong with a slight alcoholic kick and so probably the most balanced of the box.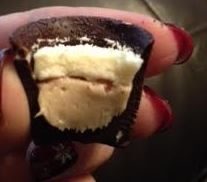 White Russian – here I feel the chocolate overpowers the beautiful mousse filling. I can taste a subtle coffee when I try the filling on its own but with the dark chocolate cup it gets lost slightly. The white chocolate cap with white chocolate sprinkies (not coconut) is a nice way to sweeten it all up a bit but I have to admit – as a fan of the coffee crème I would have loved a more intense coffee flavour.
Overall this is a lightly boozy fun box of cocktails and I'll be buying more for the holiday party I am having!