September 2, 2011
Thorntons Cloudy Lemonade
As a North American 9proudly Canadian) whenever I hear Lemonade I still think Old Tyme Lemonade that was sweet but tart, still not fizzy and yummy.  Over here in the UK it just isn't – it's just Sprite really.  So when I got three of these bars I thought I would give them all away but decided to try one just in case.
Popping candy (pop rocks) is fun.  I remember many an afternoon spent with pop rocks in my mouth, mouth open, just to make an EVEN LOUDER FIZZING NOISE.  And let me tell you – when one of those big ones went off you sure as heck knew all about it!  Given my recklessness with life and limb and choking hazards, I'm often shocked I made it to adulthood.  I certainly had an angel on my shoulder as I added two or more bags of pop rocks to an already fizzing head, tilted back.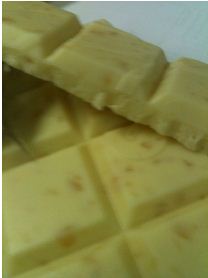 There is an interesting flavour of lemon here I can actually taste.  The white chocolate is such god quality it had stated to soften in the heat.  You won't find your Milky Bar softening at the same temperature I'll bet 😉  The lemon does come distinctly through and the popping candy just adds a lovely fizz like fizzy lemonade.  This is actually kinda cool!  I'm actually really enjoying this bar.
Defo a candy bar and wow – look at that I have two of these bars left.  So leave a comment or tweet "I'd like a cloudy lemonade bar like this http://bit.ly/o9Ub4T from @mostlyaboutchoc KPLSTXBAI" and I'll pick a winner on Sunday!
Binky & Dolly Faraday win!