September 1, 2011
Thorntons Bakewell Tart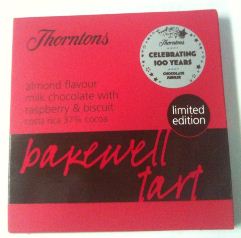 I'm Canadian and as such, I don't really have the kind of experiences others have with Bakewell Tarts.  My experiences are all around my mom's pecan tarts and butter tarts.  Mom has always made her own pastry and I just love how she leaves out the raisins for me – YUMMY!
But given that, I haven't had much experience with Bakewell Tarts and having no real love of marzipan or maraschino cherries, I have never really ventured to the tart side.  Give me a nice home-made brownie any day or even better – my mom's baking.  So I'm a bit of a Bakewell Tart virgin.  I know the theory however and so loving chocolate and having had a positive experience with marzipan in my chocolate with the Coppeneur Ocumare, I decided to give it a go.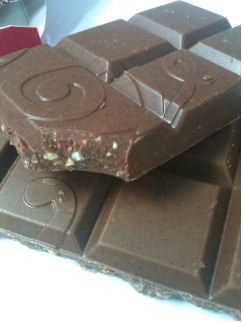 The instant marzipan flavour with intense cherry before crunching in to tiny biscuit pieces and raspberry seeds is quite the experience.  It is quite overwhelming and while most of the time the chocolate seems like a transition vehicle for the cacophony of flavours, it comes through on its own after the initial burst.  Keith here has chosen a 37% Costa Rican milk chocolate and it does show through during the full frontal assault on your taste buds.
This is not a bar for the meek.  This is a bar for someone who loves Bakewell Tarts and wants that instant hit of full frontal flavour without any of the mucky crumbs and with an added chocolate hit. Fun and nicely done – one to ship to the rellies overseas me thinks!