October 14, 2015
Tear and Share Dough Balls with Dark Chocolate Sauce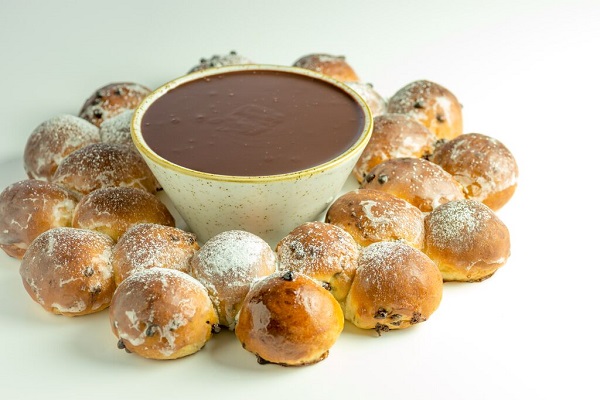 New independent research, commissioned by Callebaut shows that the traditional three meals a day no longer exist, instead 46% of consumers will eat out mid-morning, with 47% opting for mid-afternoon and 32% eating out late at night. With this shift in eating habits comes a unique opportunity for caterers to generate increased profits by shifting the emphasis beyond desserts as simply a way to round off a meal and instead to a dish that can be savoured anytime of the day or night.
🙂 Ya ya ya well I think *I* would like to be adding more desserts into my diet especially if they are negative calorie chocolate desserts (which is isn't but you know a  girl has got to have a dream…) I'm much more of an individual dessert person but apparently there are people who like to SHARE. *SHOCKING*!
Robert Harrison, Sales Director, Callebaut, comments: "Including sharing platters, mini selections and personalised dishes are a must if caterers are to encourage customers to choose a dessert. Of course, with the consumer love affair with chocolate showing no signs of easing, caterers need to think about how they can incorporate chocolate in order to maximise their profit making potential. With 50% of customers more likely to order a sweet if there is a chocolate option, our research clearly highlights the hold that chocolate has over a diner's choice to have a dessert or not – it really can make or break a menu."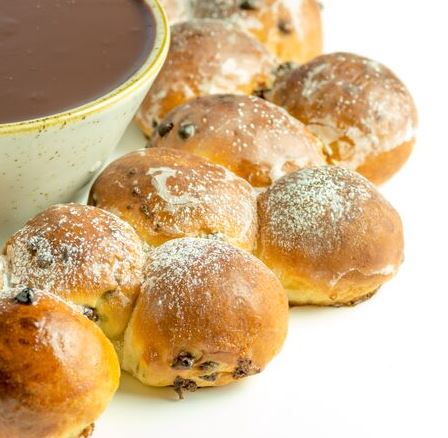 Ingredients
Dough Balls
600g strong flour
15g milk powder
11g salt
15g sugar
15g fat
26g yeast
345g water
Chocolate Chips (optional)

Chocolate sauce
100g Dark Chocolate
100g whipping cream
Method
Dough Balls
1. Create a dough by combining all the ingredients and add in chocolate chips if desired. It's like Paul Hollywood at the technical challenge "make a dough". Mix the flour, yeast and salt together in a large mixing bowl and rub in the fats. Now stir in the milk. Gradually add the water, mixing well to form a soft dough. Turn the dough out on to a floured work surface and knead for about five minutes, until smooth and elastic.
2. Allow the dough to rest under a cover for 1 hour.
3. When ready, divide the dough into 15g portions and mould into balls.
4. Place the dough balls on a tray in a circular pattern with a gap in between each dough ball.
5. Prove the dough balls in a moist atmosphere to prevent skinning.
6. Bake in an oven at approx. 230°C for 12-15 minutes.
Chocolate sauce
1. Place the dark chocolate and cream together in a plastic bowl and heat them in the microwave for 30 seconds.
2. Stir and continue to heat at 10 second intervals until all the chocolate has melted.
Serves 16