August 8, 2012
Tcho SeriousMilk Milk Chocolate Bars Reviewed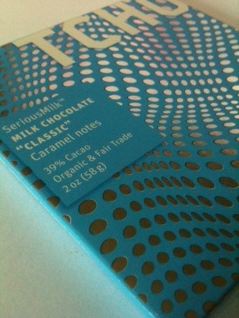 I visited Tcho during one of my visits to the US as part of work. Due to extortionate fares it turns out it is cheaper for me to spend a weekend there than fly back during the week despite the high cost of hotels. So on this time off, I spend some time going around the pier area with a friend.
Tcho pride themselves not on getting the most out of a single bean varietal and growing region but rather on creating a consistent flavour across a single country. So for example their flavour profiles for chocolate talk of "citrus" and "chocolaty" rather than focusing on Ecuador or Madagascar.  They are the Valrhona of the US except that they let the public into the factory and they have passionate people behind the till who know their chocolate.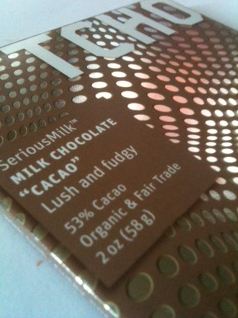 I had an extremely fun time chatting with the peole behind the counter about the characteristics of the various different varieties of beans, the growing regions of the world and other things that would bore most people like fermentation, drying, roasting and the like. Dull for most people, exciting for me 🙂
One of the innovations for the US chocolate market that Tcho have been working on, besides filing out all 6 of the pie pieces on their wheel which has been languishing at four for seemingly forever, is creating a milk chocolate worthy of their passion. There are 2 milk chocolates they have developed – one which is closer to a traditional milk chocolate with a low cocoa percentage, high sweetness and milky-ness;  one which is darker and a good bridge for people looking to escape the doldrums of milk chocolate and get excited about dark chocolate and all its complexities.
I do often scoff at people who scoff at milk chocolate – when made well, milk chocolate is a pleasantly sweet alternative to a sweet snack that someone might be tempted into otherwise. Milk chocolate may not be able to expose the complexities other dark bars do but surely that is where the chocolate-maker's art can shine through? On to the tastings…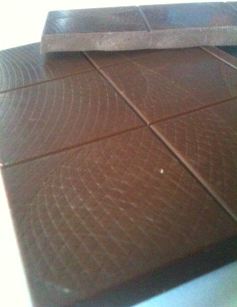 Cacao – Taste is immediately caramel but intense chocolate hit. Like chocolate fudge with that intense cocoa flavour and sweetness and cream. It is silky smooth in the mouth and intense and ever so slightly bitter but I think it is a good bridge between milk chocolate and dark chocolate. There is a slight powdery feel in the mouth but I'm not sure if it isn't just particle size.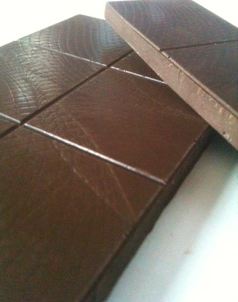 Classic – Immediate taste is of creamy caramel and continues into a sweet chocolaty flavour. There absolutely is butterscotch like a rich, home-made butterscotch flavour. There is a delightful honey undertone with that distinctive honey flavour coming through at the end. Delicious.
All in all these two bars clearly reinforce Tcho's position as one of the finer chocolate makers in the US. I may not agree with their approach always but they are a great bridge, luring people out of the land of poor, over-fermented beans to a land of complex flavours and delicious (dare I say healthier?) chocolate.