August 7, 2012
Xococava Chocolates Reviewed (not all of them obviously)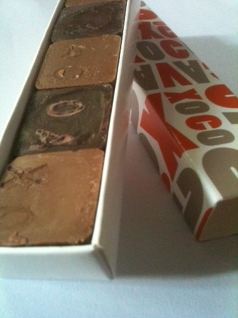 So I went back to Xococava to re-try their chocolates because things can change in 2 or 3 years…. While they were nice and used Valrhona, they also use Callebaut and you can taste the difference. I think the Canadian palette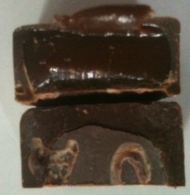 OA Salted Caramel – I like the filling but the oversweet dark chocolate I think lets it down. I'm really tough on salted caramel because I've tried so many and really love the Paul A Young chocolate and the Pierre Marcolini spread. This is darker and wetter than both but I really think a slightly different chocolate choice would make the world of difference.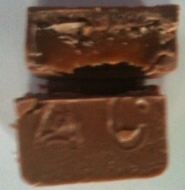 AC Cajeta – a very sweet, almost floral filling. It is apparently something like sweetened condensed milk boiled down into a confection. That plub the milk chocolate is super sweet and slightly shocking after the salted caramel. I don't like it and there is a funny flavour that I get in my nose from the milk chocolate. I was told it is Michael Cluziel but I'm not familiar with it. Could just be I'm overwhelmed by the sweetness of everything – so much so it makes me pucker! Somehow I got 2 of these and one should have been Masala Chai – damn…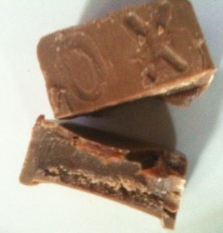 XO Corizo – yes, this is chorizo chocolate. There wasn't a slab of meat but it was smoky like a peaty whisky that has some notes of other spices but mainly is smoky. Ya – you all know what I think about smoky things so I'm not a fan but someone who likes smoke is going to be a firm fan of these!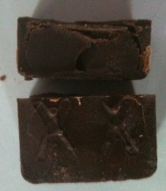 XX Coffee – This was one I was saving for last because it can be great or dire. This is in dark chocolate and having had the salted caramel I wasn't sure how the dark chocolate would work. The coffee here isn't burned which is a great thing. It is subtle and fights somewhat with the chocolate. Not bad at all. The dark chocolate is still distracting in the lack of balance and slight drying bitterness but overall a pleasant chocolate.
I'm much more a fan of Soma and their chocolates I feel have a better balance of flavours and a better balance of the base chocolate used to flavours but as a second runner-up these aren't half bad. I would have liked to have tried that Masala Chai tho – I assume the choccy was in the wrong place or something.