August 9, 2012
Akesson Madagascar 75% Chocolate Bar Review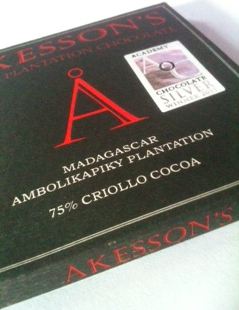 I bought some bars from this company and interestingly I wasn't in love with them all. They are extremely high quality but as everyone has different tastes, this will of course appeal to those who have a different taste enjoyment than myself.
The Akesson website has some interesting information about their chocolate.  For example, for this bar the site says "The Ambolikapiky plantation is part of the 2300 ha Åkesson family estate where our story started. Located in the Sambirano Valley, in the North-West of Madagascar, the plantation produces since 1920 world-famous aromatic cocoa. Besides 300 tons per year of Madagascar trinitario cocoa, a very limited production of criollo cocoa (2 tons per year) is harvested separately.
"This chocolate has a very expressive cocoa aroma with subtle fruity-sweet tartness and pleasant flavour notes that evoke citrus and red berries."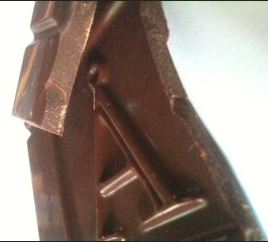 But what did I get out of it? It was a slightly odd flavour initially – almost plastic-y – then it moves into fudgy intense chocolate with that plastic though in the back of the nose. The chocolate flavour has a mellowness to it and is slightly flat to me. Perhaps this was stored somewhere odd, maybe I'm having of an off day. I do get purple fruits and raisins at the end once that plastic flavour is gone and an intense chocolate flavour.
Overall a brilliant bar but clearly sensitive to storage conditions. Once that plastic nose cleared I understood why this won silver with a gorgeously complex nose and intensely robust flavour. I'd say, be more careful than me and store this in a cardboard box 😉