August 10, 2012
Akesson Bali Milk Chocolate & Fleur de Sel Plus Dark Chocolate Bar Review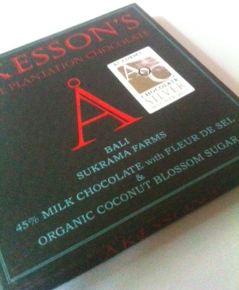 Balinese chocolate is somewhat new but as readers of this blog know, the Akesson Balinese chocolate is not the only stuff out there. I went to the website because there is always some interesting information about the chocolate – you'll see I'm not in love with it all.
"Supporting the preservation of traditional farmers, Big Tree Farms, with direct support from USAID and AMARTA, has created in Bali the first fully integrated Central Processing Unit (CPU) in Indonesia for the efficient fermentation, drying, warehousing and sale of cacao. We specially selected with them trinitario cocoa beans from the two Sukrama brothers' Farms in the Melaya Area.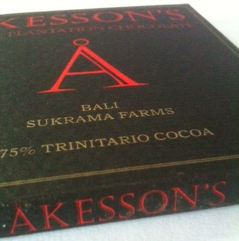 These are the first Bali Single Origin bar ever made in Europe. The dark version has fruity hints of papaya and mango. Our milk version has been realized with Organic Coconut Blossom Sugar, a healthier sugar than Cane Sugar with a glycemic index 3 times lower. We also added Balinese Fleur de Sel to match the caramelized taste we obtained."
But what the heck is coconut sugar?!? Coconut sugar produced from the natural juices of tropical coconut palm sugar blossoms, harvested by gently slicing the flower. Once collected, the nectars are kettle-boiled into a thick caramel and ground to a fine crystal. Woah – intense!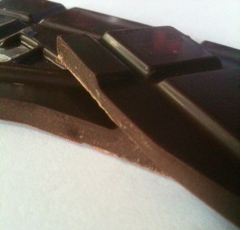 Bali Milk
But what is the chocolate like…? Sweet caramel notes – weird coffee flavour perhaps from storage? Salt is not dissolved and so as it melts in your mouth you get these big crystals which create this sour sensation with the extreme sweet happening. I do like the idea of coconut blossom sugar but I think that either it has been contaminated from being stored too close to coffee or the coffee was made before it or something but the coffee notes are distracting.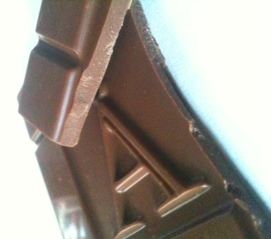 Bali Dark
I got an immediate intense sweetness which is weird in a 75%. A chocolaty flavour with a yellow fruit hinted at before the woody spices come through in the middle. Intense chocolate flavour with a lingering sense of bitterness at the end which is at odds with the immediate sense of sweetness I got.
So mixed feelings about this. Not in love with it and unclear how the milk chocolate won silver at the 2011 AoC but hey – different strokes for different folks!