May 19, 2011
Soma Porcelana Chocolate Bar Review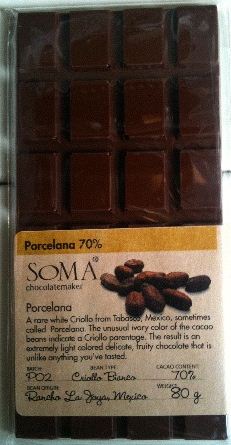 I bought some of this Porcelana chocolate from Soma ages ago and ate a lot of it before getting the chance to review it. In fact, I shared a lot of it before I got a chance to review it. Well, I do love sharing chocolate. So I managed to remember to take a picture of it and review it but I didn't take any close-up chocolate shots.
I would have to say that this pale dark chocolate was delicious. Sourced from La Joya, Mexico it has a slight acidity and a slight spiciness bit it is mainly brownies that comes through in the chocolate flavour. The thing about the porcelana bean is that it is a delicate flavour that is really gently and not at all bitter or acidic and when treated correctly, it is absolutely delicious, looking almost like milk chocolate when compared to other dark chocolates.
This is such a mild chocolate that I love introducing people to it. It is never bitter and is an excellent safe way with well-rounded flavour to introduce someone to top quality chocolate. It is a great chocolate for someone unsure about high quality, single origin chocolate of any kind because it is so delicate and mild.
I actually used this and the Alto Beni to show people at a dinner party how different chocolate could be and what was possible from different beans growing in different areas of the world. It takes from the very mild to the more intense and really helps them clearly see the difference. Instead of asking them to try and really understand their palettes, I'm helping show them the distinct difference possible. This porcelana bean has rightly gained an almost cult status among chocolate lovers and Soma have absolutely got it spot on with this bean!
Almost totally lacking in any acidity and without challenging fruits or much spiciness at all, it is a great introduction to the world of high quality chocolate. Pure chocolate indulgence that will be perfect for any palette – no matter how nervous they are about trying dark chocolate! 🙂