May 20, 2011
Soma Alto Beni Wild Bolivian Cacao Chocolate Bar Review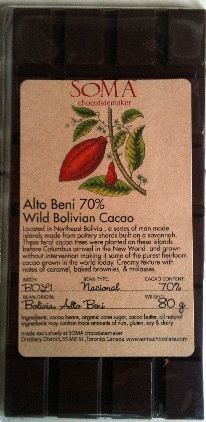 I got the chance to buy this Alto Beni Wild Bolivian Cacao chocolate a little while ago and I shared it with some guests at my dad's one night after the Soma porcelana chocolate. Where I love to eat a piece of the porcelana just for fun, the Alto Beni is more of a journey.
It was called an addiction, when I went looking for it, by a psychiatrist. That could be because I went downstairs and came up with about 10 bars but the one I was looking for was not there. Then I went into the pockets of my coat and came out with another 20 bars. At that point everyone laughed but then they tried the chocolate and they understood. Much like wine, chocolate is delicious, matures with time and brings something different to each bar depending on growing conditions among other things.
Ya… I'm addicted but I think it is a good thing. I mean, I share it with other people so really it isn't like I'm addicted and HOARDING – I'm addicted and SHARING! I think that should be permissible. Really – there should be nothing wrong with that.
The scent of the chocolate marks it as a complex dark chocolate with a slight woodiness but putting it into your mouth you are immediately hit by the complex spicy woodiness which matures into a dark red berry spiciness. This chocolate evolves into a brownie with molasses chocolate as it fills your mouth with a deep, rich, dense chocolate taste.
This is a much more complex chocolate than it seems and as it melts it changes making it an excellent chocolate to discover. This is a sharply complex contrast to the porcelana which is so smooth and lacking in acidity and really complexity in flavours so as to be purely chocolate. This is complicated with notes everywhere and really wakes your mouth up.
At the end of the evening, everyone understood my adiction/obsession and could see how chocolate was like fine wine and how knowledge of it and tasting it can be complicated and specialist and so much more than what most people relate to as "chocolate".