May 18, 2011
Soma Dancing in Your Head Chocolate Bar Review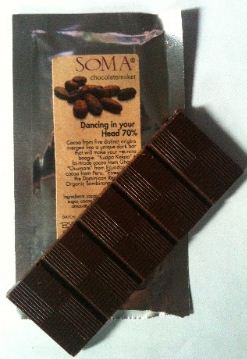 This "Dancing in Your Head" chocolate bar was a surprise bar I didn't know they had at Soma that I found in a goodie bag they gave me. It was a lovely gift and a very different chocolate from anything I had experienced previously.
Now, you might wonder how it is that I didn't "know" I had such lovely chocolate. In my defence Soma gave me a lot of lovely chocolate that I've been sharing around and the small packets do not give a hint as to what they have hidden inside. Yes… I have been sharing the chocolate. It does indeed involve giving it away but I figure that everyone has to share some joy in their lives with others and for me, Soma is like a bit of packaged joy. This bar is a blend which was a bit of a surprise as I have gotten used to their single origin bars.
Firstly it is intensely chocolaty without seeming to have anything more than a dark, fudgy chocolate but then you get this acidic kiss and the flavour of fruit. It kind of sneaks up on you but then vanishes quickly too. It is a really complex flavour which probably comes from the Ocumare from Equador, wild cocoa from Peru, "Elvesia" from the Dominican Republic and organic Sambirano cocoa from Madagascar. This is an intense experience of chocolate flavours dancing in your tongue but only for a single dance – making you want more and more to recapture that chocolate flavour again.
This chocolate melts quickly and the intense brownie chocolate flavour has a deep ripe fruit intensity which is rounded off with raisins. The complexities don't build on top of each other but are rather more subtly and blend together with the more aggressive of the tastes coming through. It is extremely delicious and extremely moreish and the kind of bar I recommend you buy lots of now. No wait… don't. I'm going to the shop and I'm buying it all. Now. Forget it – it's all mine now – you snooze you lose! 😀
This is a bit of a more approachable bar but it is subtle as well. You get the enjoyment of a really complex bar with the distinct fudgy chocolaty flavour meaning no matter what, everyone will be able to taste the quality chocolate in this bar.