May 17, 2011
Soma Africa Ghana Chocolate Bar Review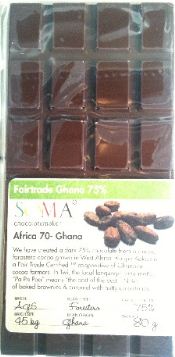 I love Soma chocolate and I really enjoy visiting Soma and trying new chocolate. This chocolate certainly is different. It is very expensive to get this bar flown over to the UK but I think you'll find it is worth it.
The first thing is the smell. It is absolutely deep dark chocolate and unlike other chocolate. This asserts itself as a chocolate of chocolate and nothing more or less. This is a deep dark chocolate with a slightly coconutty flavour which turns spicy and then woody in your mouth. It is extremely spicy and not at all acidic but is very dark and very different from other chocolate.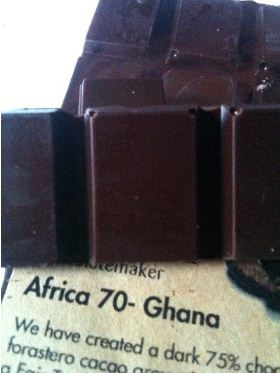 It is bordering on smoky and almost tastes burnt but it isn't. It is just so dark it could almost be coffee which is what comes through at the end. As it finishes it leaves a distinct coffee flavour which is all cocoa bean and not at all added. This complex chocolate is intense and aggressive and leaps up and grabs you by the throat before smacking your taste buds around and making you remember why you love chocolate.
If you're a porcelana fan this is not the chocolate for you but if you're looking for something different that will introduce you to new flavours and new tastes this is absolutely the thing for you!