July 23, 2012
Scharffen Berger Papua New Guinea Single Origin Bar Review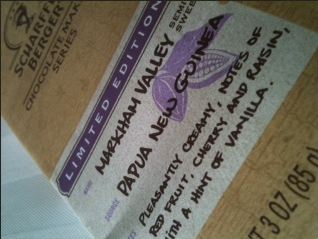 I should be responsible here and say 3 things: 1) I am not a fan of PNG chocolate as it tends to have flavour notes I don't particularly like 2) I don't trust their tasting notes after the Ferry Building incident 3) I didn't like the last Scharffen Berger single origin Ben Tre and I don't have high hopes here so I did avoid trying this bar for about 2 months. Why buy it, you wonder? I am the eternal optimist.
Now, I have nothing against PNG chocolate per se – I just find that the kinds I have had have all had a smoky edge. Not sure if that is an issue with how they are fermenting, dying or roasting but I have trouble believing in a bean that comes off the tree with an edge of smoke. So there you have it – why I don't like Jura whisky and why I don't like PNG chocolate – smoke.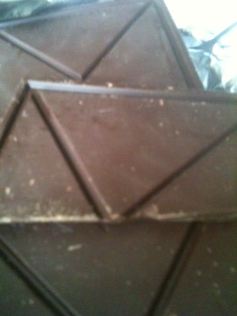 So I had trouble believing it when the paper wrapper didn't mention the smoky edge to the chocolate. I've included the tasting notes for just this reason – that and the fact that I don't agree with them at all so you should have the opportunity to know both sides of the story.
What did I think? Was it lightly fruity with notes of cherry and raisin? Not for me it didn't, no. I think this is one of those occasions where either they accidentally put the wrong tasting notes on the bar or have never bothered to check what this bar ages like. It might be nice to include a note something along the lines of "but after 2 or 3 months, the fruit disappears, leaving behind nutty notes with an edge of smoke which starts at the beginning and builds throughout" or something similar.
I got nothing from the wrapper but for the vanilla – and I think we know why we all get vanilla from *some* single origin bars. Perhaps I am infair – I did like this bar miles better than their Ben Tre and I think if you wanted to choose a single origin bar from CScharffen Berger I would recommend this of the two. Would I buy it again? I'm not a fan of the smoke so no but if I was and I didn't have anyone else's Papua New Guinea bar to buy then I'd go for it because it is a decent single origin. At this size though I would expect them to be closer to doing more great things like Hotel Chocolat.
Perhaps American palettes simple are not as refined and perhaps American chocolate buyers are not as demanding as British ones…?