July 20, 2012
Dufflet Confectionery By The Box Reviewed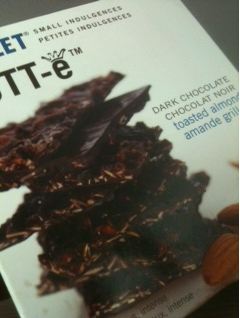 It was a warm day in Toronto, as most days in Toronto are when I'm in Toronto (largely due to the time of year I go…) when I walked into a Dufflet café I'd never been in before. It was deceptively small from the front, being a long shop with a café area at the back and a small garden behind the café. It was absolutely lovely as were the staff.
On this visit, I got to meet Dufflet herself and chat with her about my previous experiences of her shops and delightful pastries and cakes. Totally yumalicious! I think my dad and his wife are both committed fans and I know they love her stuff which is why I'm always buying it! Today though, I am here not to experience the delights of her baked goods but the delights of the range of confectionery that she developed when partnering with David's (of course I reviewed the delightful PB & J bites here).
Now, I promise I am not being rude at all (you know I love those balls of peanut butter with the jam in the middle!) when I say that Dufflet's boxed confectionery is a more sophisticated, adult treat. Indeed, the two items I have gifted to me to review are both SOFI award-winners so you know I'm not just making this up. It is unsurprising that they are award winners given the gorgeous flavour but I digress.
I'm told that it is now one year of collaboration between Dufflet and David's, a combination born of a demand by expats for a taste of home but of course, cakes don't ship well. When looking for inspiration Dufflet worked on a few ideas that preserved the fact she specialises in baked goods but also brought these unique flavour together in a transportable form. What she and her team came up with for the Dufflet branded line was absolutely inspired baking.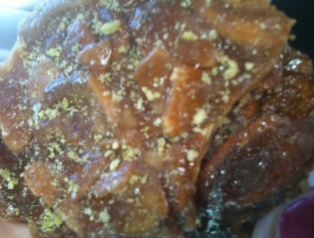 Caramel Almond & Pistachio – gold SOFI – a delightful flavour and unsurprisingly a gold award winner. The small almond pieces and pistachio crumble retain their delightful crunch, the caramel is crisp and precisely made and the flavour… of the flavour. Perfection pales next to this confection. The flavour builds softly at first, mingling and combining in your mouth from the moment you bite into it. As the caramel (hard) dissolved and you crunch through the nuts, the interplay between the flavour of the almond and pistachio come together with the caramel to create a singularly delicious experience. This doesn't need chocolate but you may need to sit down as you eat it. Scrummy and addictive.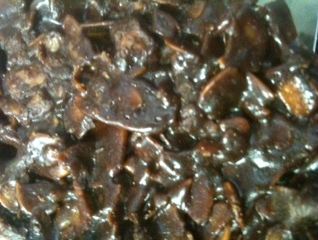 Dark Chocolate with Toasted Almonds – silver SOFI – I have trouble putting into words the delightfully deliciously different texture here. The chocolate, having been baked, is like a hard dark chocolate caramel but the flavour isn't too sweet. The texture is not that of chocolate and not that of caramel, leading to a really peculiar mouth feel. Peculiar in a good way because here the toasted almond thin slices combine with this baked chocolate to create a confection worthy of more than a silver. Perhaps they could only award one gold and so this lost the coin toss. Whatever the reason, the roasted almonds with their distinct flavour and the dark chocolate combine together to create a sweet treat that's a joy to eat and completely Canadian.
At a mere $6.99 for a box, I wish I had bought multiples of everything but alas I had limited luggage space. These are clearly and unquestionably award-winning confections and I wish I could get them in the UK because a year is a long time to wait before I can buy more! One word of warning though – once opened store in an airtight container off the counter top away from where you can see it!