June 25, 2012
David Chocolate BonBons Review
When I was in Toronto, I had the great honour of getting to try some of the new Chocolate Signature line. This like is the brainchild of David and Dufflet who came together to create a new and exciting range of confectionary and bring their delightful confectionary delights to a wider audience.
There were 2 David boxes and I have to admit I am absolutely in love with one of them – and you'll never guess which! The two boxes are brownie bites and PB&J bites. Each comes in a cube cardboard box and each have individually foil wrapped chocolate bonbons inside. I assume the silver foil will likely bear the name of the bonbon as I only had prototypes but who cares – I had delicious yummies!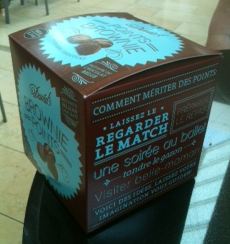 David's Brownie Points – The brownie bites were delicious. The brownie was ever so slightly dry but still how can you fault a small square of brownie covered in dark chocolate? The chocolate here is slightly sweet with a tiny bit of a bitter edge which I think is why I perceive the brownie to be slightly dry. Nothing wrong with the higher sweet factor with the slight bitter edge though for me, I do like it *slightly* less sweet. I think that this is an absolute crowd pleaser.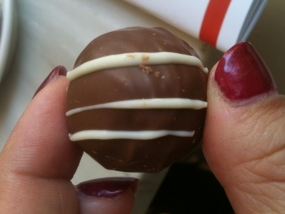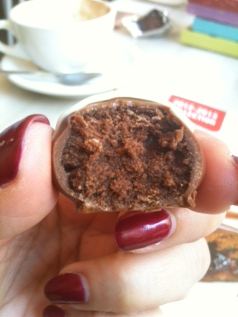 I can see these in chocolate dishes as parties, posh dos and other events and I can see the utter delight as a guest bites into what they thought was a choc and is, in fact a delicious bite of brownie. These are quite nice with a rich chocolaty flavour and though my perception is that they are slightly sweet, this is only in like with the Canadian palette. I have a feeling these will be a firm favourite and as they are available now at $10.99 you can get some from a large number of outlets.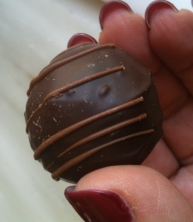 David's PB&J – this is a revelation. I cannot express how much in love with this product I am. I don't know how in the world they did this but they have created a ball-shaped bonbon that is a centre of raspberry jam surrounded with a delightful peanut butter and covered in dark chocolate. WHY ARE THESE NOT AVAILABLE NOW?!?!  Holy cow these were just amazing.
The experience is mind blowing. The bite seems innocent enough – a dark chocolate ball and  you can smell the peanut butter so you know what you're getting but the real questions is how – how will the peanut butter and jam be put together – in layers? As a ripple? It's only after taking that first bite into the middle of the PB&J that you know… that you realise what it is.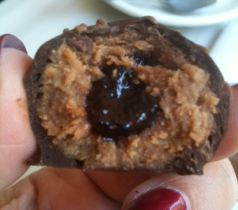 You bite through the top of peanut butter then as you near the centre you hit it – that ball of jam in the middle. You teeth slice through easily and as the sweet jam begins to ooze you finish biting through the ball of peanut butter and get the whole glorious experience in your mouth. Does that jam dribble? Heck no, the jam stays in the middle. Oh glorious delight!  The flavour is of a mildly sweet peanut butter but not too sweet because the jam lends a bit of sweetness as wll but with a hint of acidic sour. It is just the most brilliant balance of flavours of the peanut butter and jam and the chocolate just lends that hunt of something slightly more complex.
I'm addicted to PB&J and as they are only $7.99 a box I have to thank my lucky stars that I'm not in Toronto because come September I'd be OD'ing on these.