June 27, 2012
Pierre Marcolini Mexican and Java Grand Cru Chocolate Bar Reviews
This is the first in a series of reviews I completed but because of the passing of my grandmother, totally forgot to post. It was meant to be part of a series following on from my visit to the Pierre Marcolini factory. The reviews are still relevant and hopefully will encourage you to buy some of this most excellent chocolate.
Pierre Marcolini is the only bean to bar manufacturer in Belgium, a country that used to boast many such artisans according to my translator and guide from the marketing department of Pierre Marcolini's team. I've been invited up to the factory to visit the facility, see how the chocolate is made, visit the main shop and try a few of the chocolates.  What I didn't expect was to walk away with 18 of their tablets, mostly single origin bean to bar chocolates. This gave me a mammoth task – how to review them all fairly!  Well, since I'm going to be judging the Academy of Chocolate Awards I best crack on and do my best as a way of training for that task.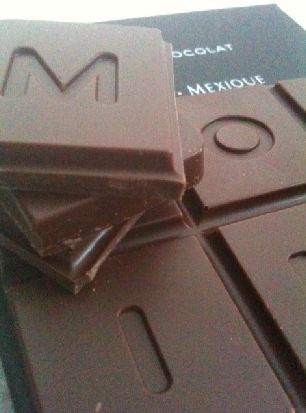 Mexican Tabasco – Finca la Joya – The website says "Characteristics: The Finca de la Joya plantation is run by Clara Echavarria, who comes from a family of planters stretching back three generations. This cocoa is unique and considered to be one of the best the world. The cocoa trees are pollinated by hand to guarantee 100% Criollo production. The cocoa is a pale colour because the beans are all white (the colour of Porcelana). Although it looks almost like a milk chocolate it is the most powerful tablet in the range. "
This is a surprisingly light chocolate for a 72% bar and it could almost pass for a milk chocolate. Being one of those rather elusive porcelana bean bars, I'm not surprised and I'm hoping it'll be as good as another I tried. It starts with a fairly flat scent but fruit and flowers soon burst through as you try this chocolate. I swear this bar tastes like the chocolate ganache of a few of the chocolates in the selection box I tried. It has a really distinctive yellow fruit and honey flavour with some delightfully mild acidity and a brilliant chocolate flavour. The melt is relatively quick which takes you through a deep chocolate flavour into the finish which is lingering with raisins. Delicious! I could eat this whole bar in one sitting… in fact, I might do just that!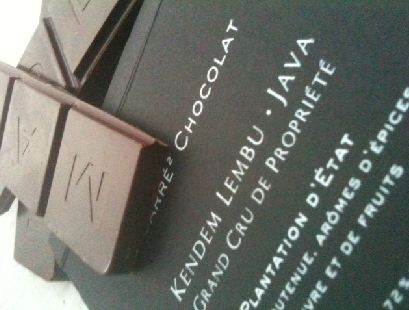 Kendem Lembu Java – Plantain D'Etat –  The website says "Characteristics: Kendem Lembu is a state plantation on the island of Java in Indonesia. Like Finca la Joya in Mexico, it produces completely white beans, which make a pale chocolate easily mistaken for a milk chocolate. They were imported from South America by the Dutch in the 18th century."
The smell is a raisin-y, chocolaty scent which makes me excited about what it'll taste like. The powerful tastes and smells I'm not quite ready for. Spices, maybe a bit of pink peppercorn, purple fruits and an acidity are all there among what tastes and smells like smoke. I say smoke because it has a scent reminiscent of many a fine whisky and so it could also be burnt peat. There is something sweet in the background – maybe notes of honey or something else but that smoke just grabs all of my attention. It is difficult to tear myself away from it and examine the other flavours happening for me. The melt is relative quick and the finish actually quite clean., I didn't detect much acidity but there is some for sure and it's helping this finish really nicely and cleanly.
These are both lovely bars but of the 2 I'd buy the Mexican one again. Besides the fact I saw the beans in the bags in the factory and know that Pierre's business partner personally worked with the farmer until she secured a good deal and that she buys most if not all the available beans, the taste is absolutely brilliant.
You can buy these or any of the tablets yourself in the new Pierre Marcoloni e-boutique!