June 29, 2011
Rocky Mountain Chocolate Factory Sweet Treats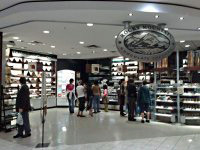 In Square One Mississauga is a wonderful shop of sweet delights called Rocky Mountain Chocolate Factory. Now, the Canadian version of this shop of delights has different sweet treats when compared to its American counterpart. The chocolate and sweet treats are either made in shop or at the head office in BC so us Canucks get different (better) stuff.

I was lucky enough on a recent visit to family in Toronto to be sent a plethora of goodies which I was able to try and review. The lovely Bonnie Junyk sent me a list of things from her shop and I got the chance to try them all. Her list didn't quite match what I thought I was eating so I've tried to match them up as best as I can. Some, like the Skor caramel apple were easy but the cheesecake was difficult. I was sent Choc Skor caramel apple, peanut butter cup, bombs in sea salt, dark choc and cheesecake, & caramel pretzels.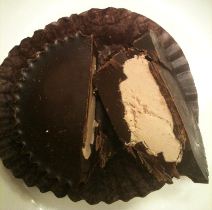 Peanut Butter Cup – Thick dark chocolate covers a peanut butter centre. The peanut butter is not too sweet and the dark chocolate is dark. The dark chocolate here isn't my favourite and when I shared it my dad thought it was OK but my stepmom didn't like it however I didn't get the chance to share it with my nephew who I expect would have been DELIGHTED!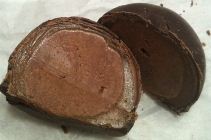 Bomb in Sea Salt – A very caramelly, chewy bomb of chocolate. A little too sweet for me but I've got less of a sweet tooth than others and I know these would be popular at a party and especially one with kids. I can imagine their excitement as layer after layer of new flavours and textures was revealed. You can see how interesting they look and how many layers there are.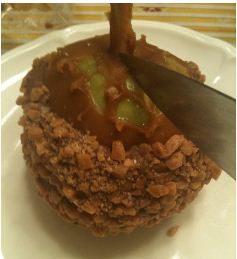 Chocolate Skor toffee apple – OMG LOVE! Here we have a large delicious ripe apple which I think is a Granny Smith or Spartan or something tart but sweet and hugely delicious, coated in caramel gooey deliciousness and dipped in chocolate before being covered in Skor. Dear sweet apple and sugary goodness this is a delicious balance of sweet and sour (apple). Absolutely glorious! The Skor is slightly crunchy and the caramel is smooth and the apple is delicious. Awesomeness.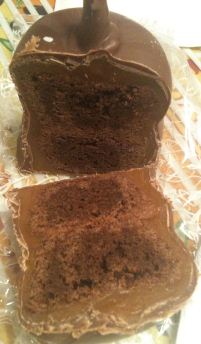 Caramel brownie coveted in chocolate –I'm wondering if this is the cheesecake as it is the only one I think might match. This is a sweet, dry brownie but brilliantly the caramel makes it moist. This is on a stick and I can just imagine a young child walking along, trying to fit it in their mouth as they nibble through layer after layer of chocolate, caramel and then brownie. It was a bit much for me but I've worked on developing less of a sweet tooth and few have like me so this is sure to be a general crowd pleaser. Makes me wonder if this isn't a print candidate for slicing, wrapping in filo pastries and deep frying – YUM!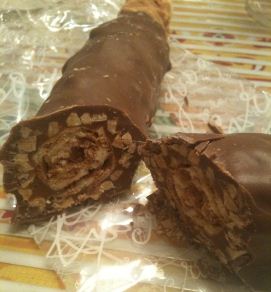 Waffle caramel & nuts – Wow this is a bit different from other things I have tried! This is sweet and crunchy and nicely balanced. Thick chocolate, chewy caramel & waffle cone with added peanuts sprinkled throughout. This must be made in store because the waffle cone is so fresh and crunchy. I had a bit of it and shared it around and of everything bar the caramel apple, this went fastest.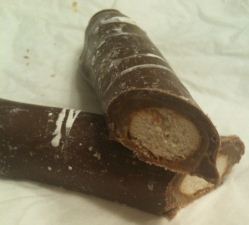 Chocolate Dipped Pretzel – This is a thick pretzel which has layers of caramel and chocolate before you get through to the pretzel. This is a bit dry much as a pretzel if meant to be, with a layer of chewy caramel and a layer of nice chocolate. Not my favourite again – few items can beat that awesome caramel, chocolate and Skor apple – but was a favourite among some at the table.
Each sweet treat was slightly different in texture, sweetness, flavour and appeal to people. Everyone seemed to gravitate to something different. I think that just goes to show how different everyone's taste is. Each of these appealed to different people and while I was most in love with the caramel apple, others hogged the waffle, bomb or brownie. Each goodie had a different appeal and I think that's what makes Rocky Mountain Chocolate Factory a great treat for a family. Everyone will enjoy something different and while this isn't Soma, it isn't meant to be. It's meant to be fun and yummy and light and enjoyable. If you're near Square One in Mississauga, why not pop in for a sweet treat?