June 28, 2011
Soma Chocolatemaker Gelato and Sorbet Review
Like most people, I'm aware that there is a difference between gelato and sorbet.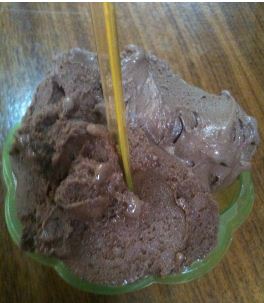 Gelato is Italy's version of ice cream, with three major differences. First, gelato has significantly less butterfat than ice cream's typical 18 and 26 percent. It's still yummy but I guess it is healthier! Second, gelato has a much higher density than ice cream because it is not aerated and we all know that the difference between a lightweight ice cream and dense one is huge. Third, gelato is apparently served slightly warmer than ice cream which explains why mine was melting so quickly. While both gelato and ice cream are served well below the freezing temperature of 32 degrees Fahrenheit, gelato is served 10 to 15 degrees warmer than ice cream. YUMMY!
Critically, sorbet is made without any dairy. It is quite a bit simpler on the ingredients list. Generally it is water, sugar and chocolate and when you're getting your sorbet from a bean to bar chocolate maker like Soma, you know that you are going to get some stunning chocolate. I was given the opportunity to try some on a particularly warm day and boy was I grateful! I had to blog it because this was just TOO GOOD for words.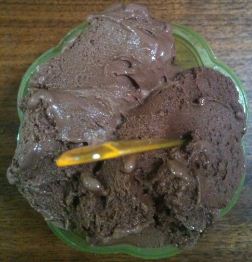 Chocolate Gelato – Soft & creamy like ice cream only better! A deep rich flavour with extreme chocolaty-ness. How can I even begin to describe what this is like? It was like a big chocolate blanket that had been cooled in a freezer was wrapped around my tongue and melted into velvety chocolate deliciousness in my mouth. Can't recommend this lovely complex chocolate gelato enough. In fact, now I know I can't have any until next year, I feel kind of depressed…
Dark Chocolate Sorbet – This is different – subtler, darker & more of an intense chocolate taste that develops over time. A much more complex flavour experience than the gelato. This sorbet is less creamy more icy – obviously since this has no dairy and is made with chocolate, sugar & water. This is perfect for anyone avoiding dairy but who still wants to have a delicious sweet frozen treat. It is a more complex flavour though so I'd also recommend it for chocolate aficionados who want to experience that complexity unhindered with additional fats.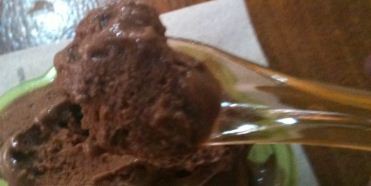 I am so very glad that I had the chance to try this frozen deliciousness. I cannot recommend it highly enough. A delicious summer treat I wish I could have bought it in take-home containers so I could enjoy it anytime (but my freezer is not a gelato temperature-controlled freezer :-o)