June 30, 2011
Thorntons Academy of Chocolate Gold Award Winners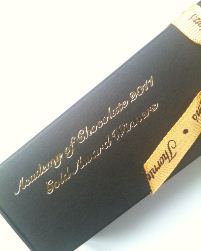 A master chocolatier is crowned in the UK by the Academy of Chocolate based on the number of gold award winning chocolates they produce. As a judge I have tried the best and worst that 2011 had to offer and I remember distinctly one of these chocolates which stood out to me as I was judging. We didn't know who had made it so imagine my surprise when it turned up on my doorstep (at work – I then had to hide it).
I was a tough judge. If I was anything, I was the archetypical "Russian judge" who looked for and demanded technical perfection. Instead I often got mediocrity and once… I just don't want to have to remember that… But perhaps I was too tough though conversations with other judges led me to believe I wasn't overly tough and was probably just right 🙂
But to the chocolate. How awesome to get these chocolates! They are a small subset of the new £100 gift box which I covet. It is this beautiful liquor-wood-style nestling box of one larger box and inside there are two smaller boxes, each holding one old and one new selection. I saw one at a show and fell in love. Who would have ever thought that *I* would fall in love with a box of Thorntons chocolates?!?
The three we got in our special box are as follows:
Crunchy Praline – I'm not a praline fan but it is nicely crunchy, has a not too overwhelming flavour. The praline was smooth, complimented nicely by the crunchy feullitune in there and despite myself I found that I enjoyed it. I used to scorn praline and now I have to admit I'm OK with it. It isn't bad and as a praline non-lover I have to admit I'd eat the second one… oh, wait… I already have 🙂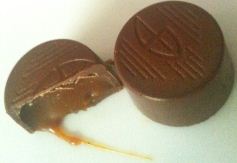 Vanilla Caramel with Cornish Seasalt – I have to admit I'm not as much of a fan of vanilla as others and this could explain why on some bars I get harsh with ones that have added vanilla (among other reasons). I liked this caramel but must admit my tastes have swung more to the more heavily sea salted caramel as the additional sea salt seems to tone down the sweetness. Add to that the milk chocolate shell (or sweet lighter dark chocolate) and it was slightly too sweet for me but still extremely good. I'm not at all surprised that it achieved a gold award.
Raspberry & Rose – Awesomeness in a chocolate. Look at that sexy indent with the red and white speckled against it. I remember this one so well and seeing it not it brings flooding back the memories of the day plus how I enjoyed this chocolate. I could not wait to eat this one and I think if they ever have it at the counter loose near where I live I will gain even more weight as I buy more of them. They are a bit Turkish Delight-ish but still – sexy!
All in all I did enjoy them. With Thorntons doing such great award-winning work I have to admit I'm surprised there is such low awareness in the shops about this great work and also in general. I hope they get more awareness and recognition of the great work they are doing.