December 12, 2014
Paul's Festive Buche de Noel for 2014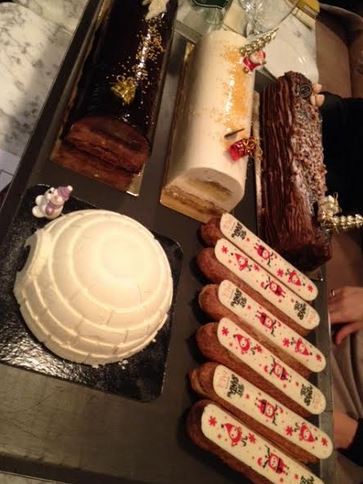 It's the most wonderful time of the year when evenings are filled with press events, champagne freely flows and because I'm *not* the person who can't walk in a straight line when they arrive at their home station like that guy in front of me last night, I'm also fine the next morning. (The previous sentence is in the running for the longest sentence EVER.)  One such event was to give bloggers the opportunity to taste the different Buche de Noel from Paul.
Paul is a family-owned, family-run shop and café which has been around for 125 years. They are currently on, I believe, their sixth generation of the same family running it and on the evening I went the daughter of the CEO was working behind the counter. This is a company where the people at the top start at the bottom and always to back to the shop floor to keep in touch with customer demand.
The shop in Covent Garden was a delightful place – the boulangerie out front where you could purchase baguette or a sandwich then through a set of doors to the main dining room set with plush comfortable chairs and a relaxed French atmosphere (clearly French countryside rather than downtown Paris in my experience). The chairs looked so comfortable yet they weren't too relaxed as they are dining chairs. The perfect balance of comfort and positioning. The room we were in was the private dining area next to the on-view kitchen where we could watch everything being prepared,
The Paul's in Covent Garden also have its bakery under its floor. Every morning at 4am the bakers start making the bread for the day. The mix of wheats and yeasts carefully balanced to creaste the delicious Paul's bread we indulged in to start our tasting. Knowing what was to come, I held back some bread and charcuterie.
The various Buches de Noel actually definitely appeal to a different kind of person. While the pears and dark chocolate seems more adult, the igloo is not just a kid's favourite. We also tried the charity éclair made with a crème patissier including specluoos spices, a touch of speculoos icing and a long finger of decorated white chocolate. But to the food! Here is what Paul says with a bit of my personal commentary in brackets.
Bûche Poire Chocolat (£28.95) – (This was delightful. Pear is delicate flavour and when paired with dark chocolate can be missed but in this was perfect. Chunky pear compote and dark chocolate mousse is the best of all the buches.) New this season, simply made for chocolate lovers and the perfect alternative to a classic chocolate log, this is pure decadence that delivers an extra punch, and is definitely worth saving room for. Expertly-rolled chocolate sponge is encased in a devilishly dark chocolate glaze and filled with a luscious yet light praline and chocolate mousse and sweet pear compote, to create a mouthful that is worth waiting for.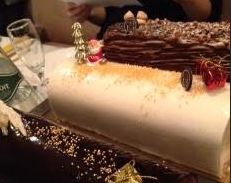 Bûche Amande Abricot (£28.95) – (This was also very light and lighter than the dark chocolate to end a meal with. The fruity flavours and white mousse makes a lighter end to a heavy meal.)  Another new addition to the festive range, a delectable and delicate, refreshing alternative to the traditional chocolate dessert, this luxuriously fruity and flavoursome cake is sparkling with edible pearls of gold, loaded with semi-candied apricot pieces with a nutty almond crunch and wrapped in a light and fluffy sponge with smooth vanilla and almond milk mousse.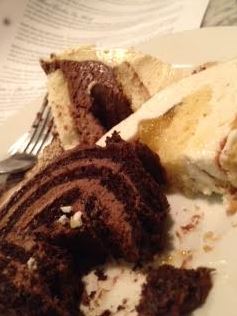 Bûche Roulée Chocolat (£28.95) – (Heavy chocolate flavour with a odd aftertaste for me I was on my 4th buche at this point so all I can say after 4 glasses of bubbles is that it was nice but if you're a fan of Marou and Duffy you might want to go for the buche poire chocolat.) Christmas would not be Christmas without one of these sensational seasonal chocolate logs. Savour every mouthful of this perfectly-presented rich roulade, stuffed with almond biscuit, smooth milk chocolate cream and dark chocolate mousse, topped with milk and dark chocolate shavings to truly satisfy that sweet tooth.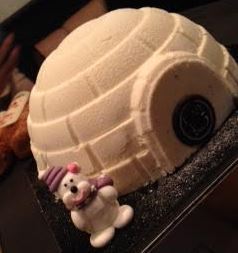 Christmas Igloo Cake (£19.95) – (Sweet, vanilla fun this is perfect for old and young family members! There is a heavy vanilla flavour plus a chocolate mousse with cake for an all-around everyone's favourite.) This super-sweet imaginative creation looks almost too good to eat. Made for youngsters, but adults are welcome to partake, the beautiful dome-shaped cake serves between 6-8 people and is made with a light chocolate sponge, smooth white and dark chocolate mousse with a lining of hazelnut craquant, vanilla cream and covered in a thin layer of white chocolate with a snowy dusting of icing sugar to finish.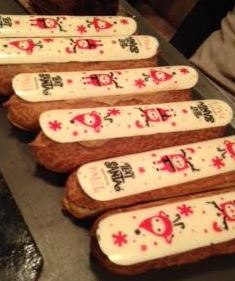 Text Santa Charity Speculos Éclair – There was nothing in the press release about this so I'll describe it. This is a traditional éclair with a speculoos crème patissiere that then has a bit of speculoos icing to stick on the white chocolate decorated with coloured cocoa butter. It was delicious with the light pastry as the perfect balance against the speculoos filling.
So there you have it – the buche de noel from Paul's but they are only available from TODAY so there's still time to get yours!