December 13, 2014
It's Getting Hot In Here – So Bring Me Paul A Young – Christmas 2014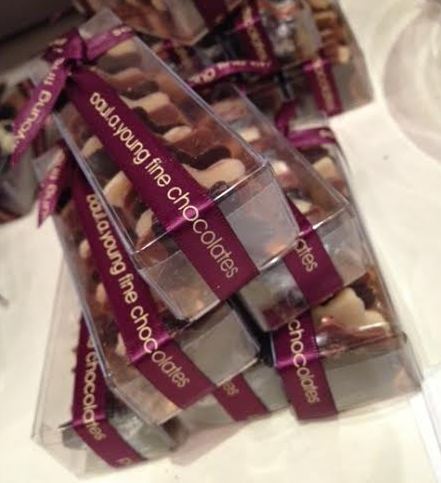 He's the hot chocolatier in London and his name is on everybody's lips. Paul A Young is making some of the world's best truffles right now. You all know I'm a fan of his caramels based on my complete eating guide 😉 Well, the man himself has gone and created a Christmas collection that combines sophisticated, refined flavours with all the fun of the festive season. As we've come to expect from Paul, winter flavours we know and love have been transformed combining inspiration from American and Persian cuisines with Paul's dedication to sourcing British ingredients.
The Christmas 2014 collection sees Paul continue his tradition of collaborating with exciting UK brands – the deep and rich Brewdog Brixton porter and ginger molasses cake truffle (loved it – the dark flavours really worked well with the chocolate and the ginger wasn't too strong); Churchill's port & Wensleydale cheese ­­(white port caramel, Wensleydale cheese, California Prune and dark chocolate which wasn't my favourite); Orange Preserve & Sacred Rosehip Cup truffle (my absolutely favourite of all the chocolates!), transforming the traditional festive orange flavour; and the Caravan coffee & walnut praline (very much enjoyed this one).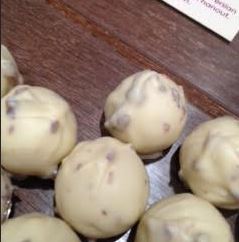 Inspired by conversations with Persian food expert Sabrina Ghayour, Paul and his team have created Persian Spice, a delicately spiced white chocolate truffle that finishes with sweet and sour Iranian barberries and the Persian Christmas bar – white chocolate with pistachio, rose petal and cardamom inclusions. I got a chance to try this and it was absolutely amazing. All those flavours together really work and I am not a fan to too many flavours.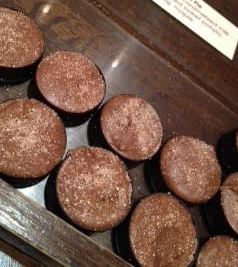 The Sweet Potato Pie truffle sees the traditional American Thanksgiving dessert reworked – candied sweet potato, nutmeg and maple syrup are blended with white chocolate, and then coated in caramelized milk chocolate. I didn't get sweet potato really but I had eaten a lot of chocolate at this point.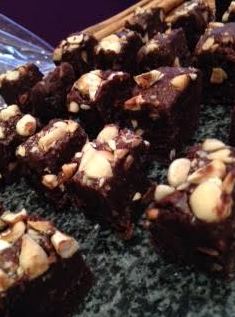 Chocolate traditionalists and modernists alike will love Paul's grown up take on one of our oldest chocolate bars. Paul has taken the traditional Fruit & Nut and created three of his own interpretations – the Fruit and Nut bar with milk chocolate, hazelnut, almond and currants; the Fruit and Nut brownie with hazelnut, raisins, almonds topped with a muscovado crumble; and the solid Fruit & Nut square, to include in a chocolate box. I'm not a fan generally of fruit and nut but I did like this one very much. I would by more 😉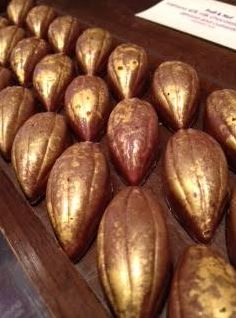 Paul will also be transforming your Christmas tree this year, and mine, with the launch of paul.a.young fine chocolate Christmas baubles. Available in dark, milk and white and decorated with beautiful pearlescent colours, they will bring a sophisticated sparkle to the traditional Christmas tree chocolates this year.
Other items in the collection include:
* Cantuccini – fennel seed and stem ginger biscotti dipped length ways in milk chocolate
* Brownie mince pies – buttery biscuit case, mincemeat with dried cranberries with a chocolate brownie top
* Sugar & Spice popcorn pave
* Chocolate orange bar with pieces of candied orange peel
* California Prune and Armagnac ganache dessert dome
* Dipped California Prune with salt and cinnamon
* Stocking fillers:
– Three Blind Mice
– Chocolate Tools
Full chocolates collection:
* Mulled wine truffle (which was delicious and really strongly tasted of mulled wine. I love it and could eat a box!)
* Classic Mendient
* Orange preserve
* Sweet potato pie
* Churchill's Port & Wensleydale cheese
* Fruit & Nut
* Sugar & spice popcorn milk truffle
* Persian spice
* Caravan coffee & walnut praline
* Rum & tonka bean
* Brewdog Brixton porter & ginger molasses cake
* California prune & caramel
1 choc £2, 4 piece box £7.00, 9 piece £15.50, 16 piece £26.00, 25 piece £40.00 & 42 piece £65.00