July 4, 2011
Paul A Young Sea Salt Caramel & Pecan Giant Cocoa Pod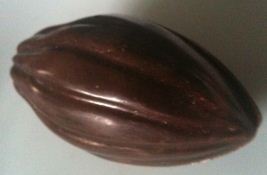 As I was on my way to Canada Day celebrations at Trafalgar Sq, I stopped in at Paul A Young. It is always a treat to go there and the shop is *always* busy. On this day there were many people in the shop and the two young men handling the shop had to fetch Paul himself to help serve some customers. I was supposed to be just going in for brownies and fudge when I spotted this glorious looking confection.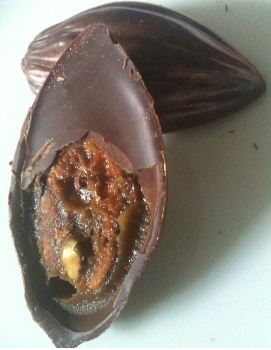 I have long thought that the world would be a better place if there were larger sea salt caramels in it. I think both Pierre Marcolini and Paul A Young have the best sea salt caramel I've tasted and so I'm always hoping for larger and larger chocolates filled with it and here I found one!
As you can see, the cocoa pod is covered in an edible glow of a copper colour. Gorgeous. I split the pod along the seam as it seemed the sensible thing to so and revealed the delicious contents within. Look at that half a pecan is that not the most glorious thing you have ever seen?
The pecan is set into the sea salt caramel with is sealed into each half with a chocolate seal before the two halves are set together. As you can see, the pecan is perfect and there is a heck of a lot of caramel. So I levered the rest of the top off to reveal the rest of the sea salt caramel and licked the smallest little lick of caramel out. HEAVENLY BLISS! Of course I had some bites of the pecan with chocolate and sea salt caramel and it is just delicious. The sweet pecan really balances off nicely against the caramel and chocolate.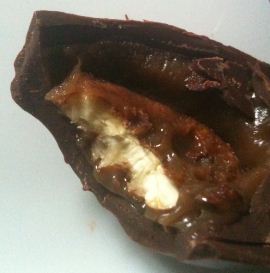 I think there were cocoa nibs in there as well – WOW! This is just great! I'm so glad I stopped by and got myself one of these and I'm so glad I did it before one of my fellow bloggers got to it 😉