July 5, 2011
Divine Glastonbury Chocolate Bar

Divine Chocolate, the Fairtrade company co-owned by cocoa farmers, has been invited to be the official chocolate bar at this year's Glastonbury festival. WOOHOO! A variety of bars were on sale at the main festival stores which included a limited edition milk chocolate bar with a specially designed wrapper exclusive to Glastonbury. Divine has been running a series of promotions, including a really exceptional prize for one lucky winner during the festival – one bar contained a Golden Ticket, giving the winner stage-side access to the Pyramid Stage on the final night.
Luckily mine didn't have one of those golden ticket or prize thingies since I wasn't going to Glasto!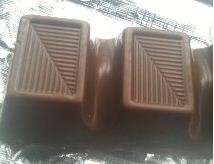 I got sent one of the special 45g milk chocolate chocolate bars with the limited edition wrappers and proceeded to carry it around with me to review it. Well, it's pretty standard Divine milk chocolate. It's slightly sweet for me but the interesting thing here is that it is 45g and not 100g so you can safely eat the whole bar. With a 100g bar you feel slightly naughty but with this being only 45g it's fine!
The special edition wrapper is actually really funky. I love the "Shine With Divine" message around the sunset as twilight touches the horizon. Really pretty and I love how they have made sure choccy at Glasto is Fairtrade. Fun!