July 6, 2011
Thorntons Rose Chocolate Bar Review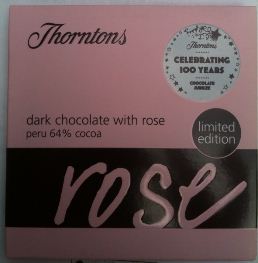 Today I thought it would be a good day to post the review of the Thorntons Rose chocolate bar.
Of course, when this review goes live the news about the closure of 180 stores will have hit the news and there will have been stories of the demise of Thorntons and the like. What I think is sometimes lost is how Thorntons survived two world wars and times of severe austerity. They have had to make some difficult decisions and refocus but they are trying to survive. I hope they make it.
Thorntons are celebrating 100 years of being in business with this bar and their £100 100th anniversary box of chocolates but I feel that the term 'box of chocolates' kind of does it a disservice. It is red beautifulness in chocolate… But we're here to discuss rose chocolate.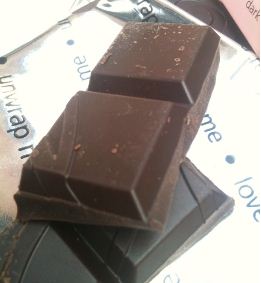 The chocolate here is 80g of 64% Peruvian cocoa milk chocolate. It is slightly sweet but not as sweet as others I have tried. It is nice and enjoyable and while it isn't Duffy's it doesn't try to be. It is a delightful milk chocolate though and has been tamed. By tamed I mean it isn't some sickly sweet disgusting confection but a yummy, very edible milk chocolate which is slightly darker than you might be used to.
The rose in the chocolate is in pieces – it is not rose flavoured chocolate. The rose is sugared and it is likely why the milk chocolate is not overly sweet – the rose petals in the chocolate are sugar-coated and sweeeeeeeet. There is no noticeable rose flavour to me though but I was having these in the afternoon and I can taste more subtle flavours in the morning. The sugared petals did combine with the chocolate and it made it much sweeter.
All in all this is a decent milk chocolate and nothing to be sneezed at. It is delicious and delightful and is a really fun celebration of 100 years of chocolate. This is not some Turkish delight chocolate flavour but a really nice take on the traditional English rose. Don't get it if you want sickly sweet artificial chocolate – this is a bar for someone looking for more sofistication.