June 14, 2011
Paul A Young Launches New Shop on Wardour St in Soho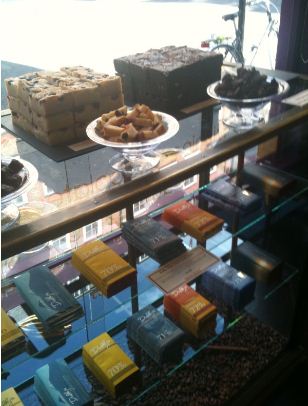 Well, I'll never be able to diet again. A few very short steps from Hummingbird bakery, in a slightly different position than I thought they'd be, is the newest addition of the Paul A Young family – a bouncing baby shop 🙂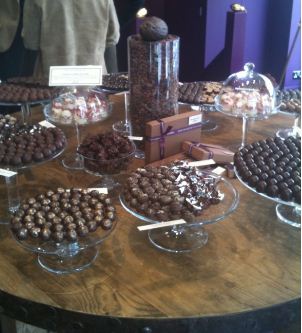 With the typical purple decorating the exterior and on the corner, it is difficult to miss this new shop. Inside all the chocolates are laid out in tantalisingly delicious arrays of colour and flavour in the middle of the shop, enabling anyone to walk around it and choose whatever flavours they want to take home with them.
The interior is lush with a wall of solid purple, cocoa pod wall paper and golden cocoa pods festooned around the shop like giant golden jelly beans. There is an entire side of the cookbook from Paul A Young and the chocolates are made fresh on site.
The kitchen in the cool lower level is immaculate. There is a cool storage area for supplies, a large kitchen working area with marble table tops and a storage area at the very back as well. Apparently therr may be chocolate classes in the downstairs in the future which would be awesome.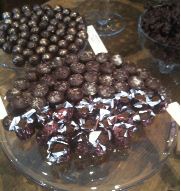 Not only is Paul A Young launching a new shop, they are launching a new summer collection! With weird and wonder flavours such as tomato, olive oil, and basil (surprisingly wonderful), St Germain liquor and elderflower (you'll want dozens of this delicious refreshing treat), cocoa nibs in a 82% Mast Bros chocolate (somewhat acidic, sharp chocolate with a cocoa nib crunch) and Kernel Brewery stout chocolates (to die for with delicious loose ganache filling and covered in muscovado sugar) there is sure to be something for everyone.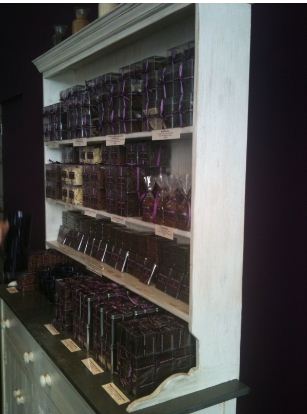 It isn't just the new flavours which are making an appearance here, the famous goat's cheese chocolate is here near the popular marmite truffle, the champagne truffles and, my absolute all time favourite, the sea salt caramel. Readers of this blog will be aware that I have an eating guide to the sea salt caramel.
While the experience itself is worth a visit, the location near Hummingbird and one of my favourite Thai Green Curry take away places (Papaya) is sure to ensure a high amount of passing trade (as well as apparently people looking for stamps as the shop was a stationers for 80 years).