June 13, 2011
Iain Burnett Velvet Chocolates Review
In the Academy of Chocolate Awards goodie bag was a curious thing – a beautiful but empty box. Some of the readers of the tweets associated with this blog may remember my bemused tweets as I was reviewing the ganaches in the bag. Not wanting to be the only one with an empty box, I contacted them and asked if they were aware that some boxes were, evidently, empty and what was supposed to be in them. They were meant to be empty but it opened a dialogue with a chocolatier I may never have contacted otherwise.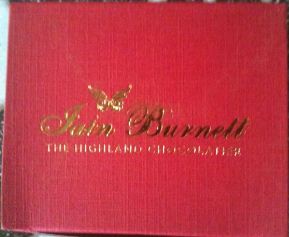 Iain Burnett is a Scottish chocolatier. He has been making chocolates for awhile but I suppose because he isn't in London or Toronto or anywhere I've been yet (I've only been to Glasgow for the 2005 Worldcon) I haven't had the opportunity to discover his chocolates and my life has been poorer for it. No really, it has. I'm serious – and yours is too right now and you'll only realise how poor you've been until you try them and you much.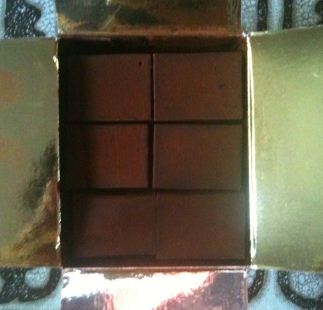 I often receive chocolates through the post (though these arrived by courier) and I often try and bit and give some away. These though are all mine.
I received these squares of ganache, lightly dusted with cocoa powder in a heavy box that I thought was made of wood until I opened the bubble wrap it was so heavy. I carefully took our one of the squares and bit into it.
The first impression I had was of smooth chocolate. A fast melt chocolate that really can only be described as velvety. This chocolate is delicious – it floods your mouth with a chocolate velvet deliciousness that is luxury. I once had a chocolate like this in Japan. I had never had its like before and I am so glad to have found them again.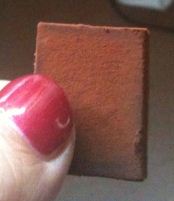 It is so difficult to describe this chocolate because it is so awesome. Delicious, smooth, delicious, velvety, delicious, high quality chocolate, delicious and yummy.