June 15, 2011
Soma Chocolate Exploration Box Review
One of the things I love about Soma is that they care about chocolate. The passion I see is amazing and I can imagine they are constantly meting people who are just discovering their chocolate. It is that constantly introduction that probably led to the creation of this box of chocolates – 4 chocolates in convenient slim form perfect for trying and sharing.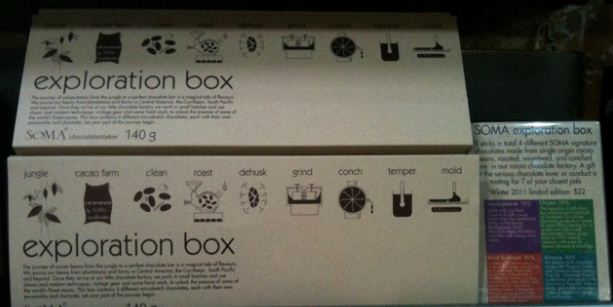 There is a wonderful story inside the box taking you on a journey of discovery from jungle to tasting. The long cardboard box is a plain brown card which I assume means it is chlorine free which is safer for the environment. Taking off this sleeve you reveal the information card which tells the story of the bean to the bar.
Starting in the jungle they say that they work on finding the special beans and then the farmer work on scooping, fermenting and drying the beans. The folk at Soma then get the beans in 60kg sacks which they clean and reduce into smaller bags. The folks at Soma then roast the beans and winnow them before putting them into a melangeur machine with sugar and make paste but it is chunky – really chunky! Next you refine which makes the chocolate smooth and then conch which aerates, warms and mixes the chocolate which makes it smoother. Once done they have information about tempering and moulding.
Now you get to the tasting notes. Apparently there are 500 flavour components in dark chocolate and they suggest finding a quiet place, have some water and unsalted breadsticks to hand, take half a stick at a time and let it melt in your mouth paying special attention to the flavour.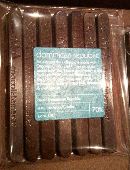 Dominican Republic – there is a slightly drying flavour to this chocolate that I associate with a touch of chalkiness. There is a slight fruitiness but also a tiny bit of acidity. These sticks melt really quickly and it finishes with a clear chocolaty flavour at the end which is clean and delicate without too much acidity. Really delightful and maybe nice with a Beaujolais.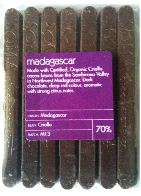 Madagascar – made from the criollo bean this is a more acidic chocolate with a distinct chocolaty flavour lacking the extreme fruitiness of some others but still packing a bit of a raisin punch. There isn't the acidic punch of some other chocolate but it means you can enjoy the dried ripe fruit flavour. Could be nice with that black tongue wine from Naked Wines.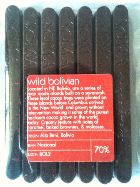 Wild Bolivian – Wildly different the fruit absolutely assaults you as the woodiness lurks in the background. The fruit goes quickly leaving a chocolate that defies explanation. Once the immediate fruit leaves the woodiness lessens as well leaving a clean flavour behind. Completely lacking in acidity it is a bold chocolate that edges on brownies in its depth of dark chocolate flavourings. It is not bitter at all but still imparts that intense chocolate flavour. It is a really wonderful chocolate and well worth the trying. I'd probably have some port with this myself if I was to drink with it but it is awesome on its own.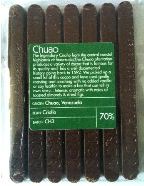 Chuao – this is a perennial favourite that needs little description. Intense fruit with gentle acidity and a lovely flavour. I might go merlot here and have some lovely cherries or raspberries and dip them in the chocolate. Wait – forget that – I'll just eat it slowly myself 😉
All in all I love the idea of this exploration box. The flat cardboard box helps keep it safe and if you'd like to try a lot of different chocolate bars it's a great way to grab 4 of the best but be aware that the chocolate in the box changes seasonally and with availability so make sure you check before you buy 😀