January 28, 2013
Patchi at Harrods – Chocolate Kisses from Lebanon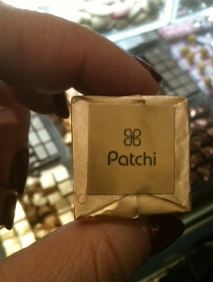 Within the chocolate hall at Harrods, among the thronging hoards, there is an oasis of chocolate calm. Next to the high quality and short shelf life William Curley fresh chocolates is the marvelously visually appealing Patchi chocolates. A feast for the eyes, the counter is a beautiful cacophony of colour, with a rainbow of pre-wrapped chocolates and a treasure chest of gold and silver wrapped chocolates.
Patchi means "kisses" and these not-so-small kisses of chocolate attract people from around the world. As I was talking to Maria from Patchi, someone from Australia popped by who had specifically made the journey to Harrod's food halls after seeing it on Facebook. Patchi is also a global brand with a shop in Paris and a presence in Asia as well as the Middle East.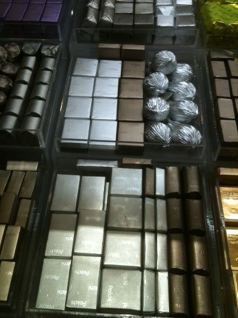 While I was at the counter, I noticed that everyone who came close to the Patchi concession was offered a chocolate. They were asked what they liked and a Patchi assistant then deftly selected a chocolate based on that like and generally they were spot on. In fact the first chocolate from Patchi I tried was called "Emotion" and it was fabulous. The perfect balance in a chocolate of not being too sweet, too bitter or too nutty.
All of the chocolates at the Patchi counter are made specifically for them. Their chocolates have a longer shelf life and this is partly aided by not using oily nuts too often. Where they do use a naturally oily nut like a hazelnut or a peanut, they either caramelise it, in the case of the hazelnut cluster in milk chocolate, or they actually seem to have removed a lot of the oil from the peanut butter chocolate.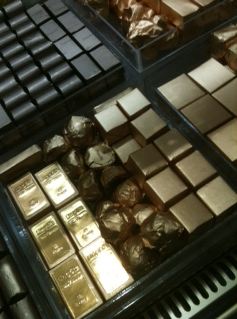 One of the things that really struck me about Patchi, besides the fact I could become addicted to the feuillitine, is how each chocolate is precisely wrapped with a large sticker sealing each chocolate shut. There is no chance that your chocolate has been touched, smelled or in any way tampered with by anyone else. Once it has been expertly made and flawlessly sealed within the foil wrapper, it is safe from germs and stray hands.
The chocolate are so perfectly and precisely packaged that they are beautiful on their own. The shades of gold and silver paper-backed foil wrappers are sharply folded with perfectly smooth faces. There seems to be nothing to mar the perfection of each one. A slight difference in shade of gold, shape, or size seems to be the only way to tell which chocolates are which and yet the staff knew each chocolate by heart. Above the foiled perfection sit the candy-coated almonds. They look beautiful. I tried a soft, un-roasted almond which, while not to my taste, was still beautifully executed. I prefer my almonds roasted like the pile of almonds enrobed in dark chocolate.
Patchi chocolate kisses are nice quality chocolates in visually stunning packages. They are long shelf-life chocolates but not too long, so enjoy them within a few months after purchase for them to be at their best!