January 29, 2013
Lucky's Cremarch Salted Caramel Spread Le Carameleux and Chocolate Spread Chocaux Noisette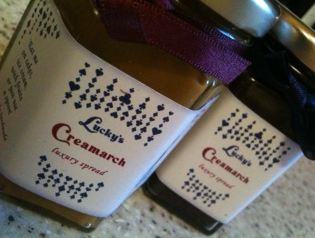 Lucky's is a company that is always doing something different. They work tirelessly trying to bring quality, luxury items to the British public through using high quality ingredients and pushing boundaries. They are not satisfied simply taking something made by Valrhona and repackaging it – they want to create something unique and bring it to market.
Much like the Tweedle Twins, this is also the case with the Cremarch spreads that they have created. You'll find these two lovelies in smaller quantities in the Tweedle Twins desserts but here is a whole large pot of deliciousness.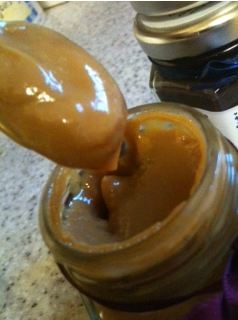 The salted cramel spread is absolutely amazing. Creamy smooth and sweet, it takes dulce de leche which I find to sweet and calm that sweetness. The result of taking something so creamy smooth and sweet and calming that almost pucker-inducing sweetness to a more palatable state is that you could potentially sit down and just eat a jar. It takes a force of will to stop.
The flavour of this is different from the Pierre Marcolini salted caramel spread. Where The Pierre Marcolini is quite buttery with only a hint of darker sugars and an edge of almost tangy caramel that satisfies without being too sweet and is perfect on toast, Lucky's Cremarch salted caramel spread is rich and creamy, with an almost condensed milk flavour. It is gorgeous and quite unlike anything else you'll ever try. Of the two, I'd buy this one.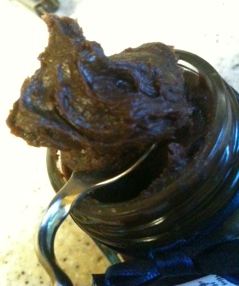 The Chocolate hazelnut is very different. They aren't satisfied with just making a chocolate hazelnut spread out of a 40% milk chocolate, making it lighter and sweeter than others. They went a step further and added hazelnut pieces to the mix as well. This is possibly the first crunchy chocolate hazelnut spread 've seen and as a sometimes fan of crunchy peanut butter (but smooth on hot toast ricks), I approve.
The flavour is quite chocolaty and not too sweet with the flavour of the hazelnuts coming through clearly. It isn't overpoweringly hazelnut and yet it also isn't just chocolate. Mind, I am a huge fan of the clean chocolate taste of the Pierre Marcolini chocolate spread but that is like pudding. This is more of a spread for toast.
All in all, I really like both. These were a gift but if I was purchasing them, I'd invest in the salted caramel spread. I know, it isn't chocolate but it is unique and lush. You can BUY SOME ONLINE and try it for yourself.