January 25, 2013
Monty Bojangles French Cocoa Dusted Cookie Truffles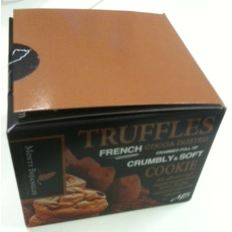 There's something about a well-dressed, well-mannered cat that is just absolutely fascinating and enamouring all at once. Pair that up with melt-in-your-mouth truffles and you might be on to an irresistible combination – or Monty Bojangles truffles.
I think that Monty Bojangles may be the official truffle of the London Girl Geek Dinners as well as they and the fruit jellies were possibly the most coveted item at any dinner ever. But I digress. I'm here eating some truffles that aren't going to get shared… I mean, that I am reviewing.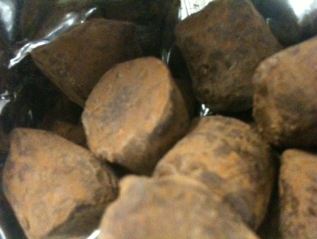 These truffles are the kind of smooth confection that has a lovely dollop of chocolate, some added oil to make them melt even faster in the mouth, and a cocoa dusting to make it all good in the end. It has been shown that part of the reason we go crazy for chocolate is that mouth melt and so with Monty Bojangles truffles having that melty mouth feel in spades, how can you resist.
The truffles themselves are bell-shaped chocolate ganache drops, about the size of the top knuckle of your thumb. There are plenty sealed in the foil pouch inside the box which has a bit about the truffles and the company on it. The packaging isn't too fancy but it';s really what it inside that counts and from a retailer point of view, they are shippable, stackable and you can get more on a shelf than perhaps a bag or something fancy. The foil inside is stamped with the kind of truffles inside so you know you've got the right stuff and there are quite a number inside – enough for everyone who wanted one at the office (my side that is) and I still had some left to put in the kitchen.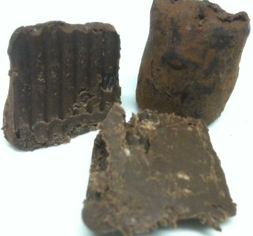 They are a bit sweeter than I'm used to but lots of the people who read this blog like their chocolate more on the milky sweet side (and I really encourage you to take a few steps towards the darker milk side with Askinosie, Hotel Chocolat or Duffy) and these DARK truffles will satisfy a wide range of people. They aren't at all bitter and they aren't too sweet so they strike the right balance for a more mass market item. They have these great little cookie pieces that are so small they seem the size of rice krispies and yet they have a most satisfying crunch. There is just enough of them to give it some crunchy body and yet not so much they aren't pleasant with more cookie than chocolate.