January 24, 2013
Askinosie San Jose Del Tambo Ecuador 70% Dark Chocolate bar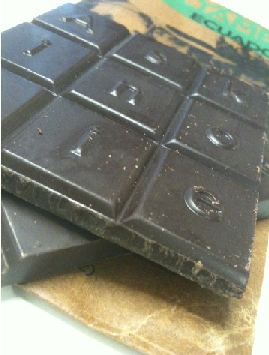 Askinosie, as many of you know, are one of my favourite chocolate makers. They not only make some of the world's most amazing chocolate but they give back to the community as well, locally and in the chocolate-growing regions they buy beans from. In fact, Askinosie do such great work, Shawn was recently honoured by the NASFT for all the great work he is doing in the community.
I help Shawn out a little bit keeping an eye on stats, PPC, etc. and he gives me more chocolate than any single human can consume. While I do share, it is often reluctantly as he does produce the most amazing (award-winning) chocolate. With smaller chocolate producers who work with the beans and so not seek to create the same flavour time after time, when I get new bars sometimes I re-review them. I suppose it depends how hungry I am. Shawn, however, is so generous I will never be without my favourite milk chocolate and fleur de sel (made with goats milk so cow milk free!), or my beloved Malted Milk bar (my favourite flavoured bar).  This time, though, I thought I'd re-review the dark chocolate San Jose Del Tambo which I often always cite as my favourite dark bar (though it has serious competition from Dick Taylor, Duffy, and Soma if they ever do a Chuao again).
When the bar is fresh you get jasmine really up front and forward. When I led the chocolate tasting at Chicon, the Worldcon in Chicago, we all absolutely got jasmine though some were put off by the much more dusty earthiness. Once it has been stored, you get more of the bergamot come through, red fruits with a delicate almost earthiness hidden under the chocolate-covered dried cherries, berries and more. The earthiness you get is more subtle as it blends in with the bergamot and hint of honey more with a nose of some jasmine florals if you're careful and pay attention but not like when the bar is fresh 🙂 Interestingly the acidity has also seemed to have calmed a bit while in storage and the bergamot thrusts through your note at the end almost as though you've eaten one.
Gorgeous! If you've been put off dark chocolate because it is too bitter, try this. If you're worried you'll not be able to taste anything special, don't worry. If you let a square melt in your mouth (DON'T CHEW! You'll spoil it!), you will absolutely get flavours that are naturally present in the bean, you won't taste bitter though you may be put off by the earthiness (in which case Tanzania may be for you).
You can BUY THIS BAR HERE.