January 23, 2013
Kopi Coffee of the Month Club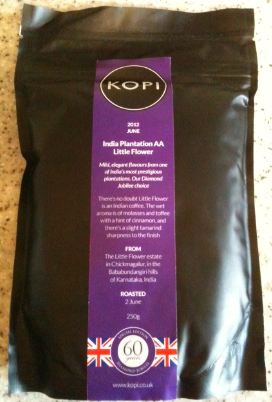 Not quite chocolate but Kopi has taken the club of the month idea and turned it towards a very noble endeavour indeed – coffee. With fewer flavour notes than chocolate if memory serves me right (much like wine) coffee is still extremely complex and relies on a number of factors. In fact when you look at how coffee is treated from bush to jar and how chocolate is treated from tree to bar, they almost mirror each other.
And so, with the same care an attention that a chocolatier puts in to selecting the right coverture to make the perfect chocolate, Kopi work hard to select the perfect coffee each month. They taste, select and ship a different coffee each month to their subscribers. The coffee arrives in a box that is slim enough to fit through almost all letter boxes and yet I believe we got 4 Bodum-fulls of coffee from one bag so they are not small.
They assure me that if you get a really good flavour and want to buy more, that is possible and that they have access to so much amazing coffee that they don't have any worries of repetition. That's pretty impressive.
Did I like the actual coffee I was sent as a "Peer Perk" from PeerIndex? Yes – unreservedly. The flavour was bold, not burnt, no bitterness, with well-developed notes of molasses and toffee without detracting from the base coffee. My husband and I both loved that coffee. Would I get a subscription? If I didn't have several kilos of coffee still waiting to be consumed and never got given any other coffee I would as the one I got was so great I would trust them to curate well. You can CHECK KOPI COFFEE HERE.