December 17, 2014
Palmes D'Or 2004 Brut Reviewed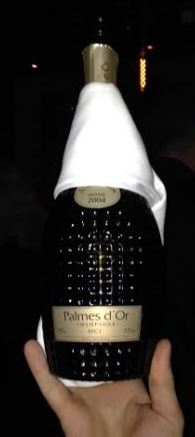 I'm still learning about champagne and so I try and ask questions. I try and ask a lot of questions and so last night I learned that champagne was discovered by a monk (thus Dom – and his name was Perignon) because in the 16th century when the wine was stored in bottles over the winder then started to warm in the spring, the fermentation would start back up and some would explode. Others would be sparkling. I don't know if this is true but it is a good story.
I also learned that pinot meunier is only added to young champagnes to bring freshness and is never in vintage champagne. As such, this 2004 vintage champagne is 50% pinor noir and 50% chardonnay.
I have to admit, this does not taste of chardonnay. It depends on the region but I have never been a massive chardonnay fan. Some of the notes in chardonnay just don't float my boar in the same way some of the flavour notes in Madagascar chocolate just doesn't float some people's boats. I'm not getting that chardonnay flavour in this vintage champagne.
The first thing you notice is that on the nose you get notes of perfectly ripe white grapes drying in the sun on the side of a hill. There is a note of raisin that comes through which is soft and gentle. It whispers in your ear about sun-drenched fields soaking in the sun and lightly kissed by rain. The floral notes are like pollen wafting on the breeze.
On the palate the balance of flavours is masterful with that gorgeous white grape raisin coming through, almost as though some of the grapes were allowed to mature a little bit longer to develop more sugar and flavour. The champagne with its tiny bubble is at its best chilled as I discovered when I was served a warm glass. The flavour is just perfect for me, with a light amount of fruit, not too drying, an interesting balance in the mouth, that raisin coming through and the light small bubble. There is a hind of what might be referred to as minerality.
This is not an inexpensive tipple, being a vintage champagne but it is well worth investing in some and enjoying it slowly to appreciate the flavours fully. BUY HERE or maybe bug Selfridges or Harrods or a nice wine merchant