May 1, 2017
Olive Oil Mocha Chocolate Cupcakes Topped with a Goat & Cream Cheese Frosting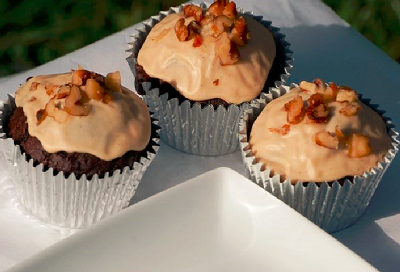 So after making a moist and fluffy cake with vegetable oil I thought it just might be possible to translate that cake into cupcake form and create moist fluffy cupcakes. The thing about chocolate cupcakes of any kind is that you have to use quality chocolate otherwise the resulting cupcakes taste awful. So the cupcake recipe here is my favourite but it requires quality chocolate and is a massive faff – much like this recipe 😉  So if you're not intimidated by the recipe have at it and maybe try this mayonnaise brownie too!
Makes approx 20 cupcakes
What you will need:
Mocha chocolate cupcakes
50g 70% dark chocolate like Divine or Green & Blacks chopped roughly into small pieces
175ml espresso freshly made (so it is hot – it needs to melt the chocolate)
85g fine cocoa powder like Askinosie (not dutched)
325g plain flour
250g Billingdons golden caster sugar
1 tsp baking soda
1 tsp baking powder
1/2 tsp of salt
2 large eggs
75ml virgin olive oil
175ml buttermilk
1 tsp Nielsen Massey vanilla extract
Goats & cream cheese frosting
45g unsalted butter
45g cream cheese
45g soft goats cheese
1 tsp Nielsen Massey vanilla bean paste
275g Billingdons golden icing sugar
Chopped walnuts or chocolate chips for decoration
How to make the cupcakes:
Preheat oven to 190C (170C fan otherwise they will burn)
In a small sized bowl, place the chopped chocolate and pour the hot espresso over it and mix it to gently melt the chocolate. Next, add to this liquid the cocoa powder and mix carefully to turn
into a loose paste.
In a medium bowl sift together the flour, sugar, baking soda, baking powder and salt so they are well combined and any lumps are removed.
In a large bowl whisk the eggs until light and fluffy. Once fully whipped, we will add our other wet ingredients.
Add oil and combine into the eggs. Next add the buttermilk and vanilla and mix in well. Lastly add the small bowl of melted chocolate mixture to the eggs mixing until well blended.
Now carefully fold in the dry ingredients to the mix until just combined.
Fill your cupcake cases until 2/3 full or weigh them like I do.
Bake in 190C oven for 14-15 mins.
Once baked, leave to cool before frosting.
How to make the frosting:
Beat the butter until light (it will help isf the butter is close to room temperature).
Add the cream cheese and the goats cheese with the vanilla bean paste and beat until smooth.
Slowly add the icing sugar and beat well until smooth.
Use a knife to spread the frosting onto each of the cupcakes and then sprinkle the cupcakes with chopped walnuts if desired (or chocolate chips)