April 2, 2017
Melting Middle Chocolate Cupcakes Recipe
These cupcakes have a surprise inside – a lovely melted chunk of chocolate. They are best eaten warm otherwise the middle is just a single large chocolate chip 😉 which is no bad thing 🙂 These are some of the most yummy cupcakes I've tried. This recipe is for only 6 which is perfect for me when I'm experimenting and also for using my new cupcake tin which has molded heart shapes but only has 6 spaces 🙂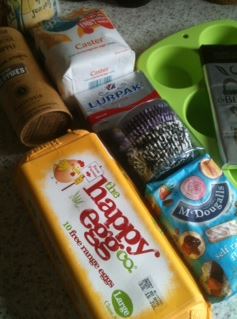 Makes 6 cupcakes
What you'll need to make these cupcakes:
70g Self raising flour
1Tbsp cocoa powder (I used Askinosie)
70g unsalted butter at room temperature
70g caster sugar
1 large egg at room temperature
1/4 tsp vanilla extract
Pinch of salt
1Tbsp milk
42g 70% dark chocolate (I used Green & Blacks)
Preheat oven to 190C (170C if you have a fan oven like mine). I have a 6-space silicone cupcake tray with a heart pattern on the bottom which works with this recipe. It makes a cute cupcake shape and the melting middle makes it more special.
Beat the butter until fluffy then beat the sugar into the butter until you can't see sugar.
Add the vanilla extract and beat in lightly.
Beat the egg into the mixture. I usually beat the egg slightly first in the bowl I'm using, then incorporate it into the mix using a hand blender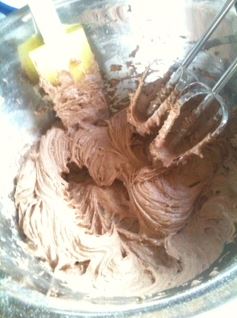 Sift the flour, cocoa powder and salt together into the mixture carefully and fold in.
Add the milk to the mixture once it is a consistency the hand mixer can be used on it and blend everything until it is mixed together. Don't over beat the mixture.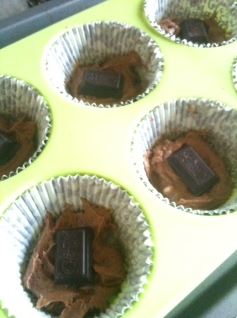 Spoon half the mix (around 20 – 23g) into the silicone moulds (or cupcake papers). Make a slight dent in the middle and add 7g of chocolate to the middle of each cupcake. Spoon remaining batter on top (20 – 22g)
Bake in the preheated oven for 20 minutes or until risen and firm to the touch. Leave the cupcakes for around 5 – 10min then enjoy while still warm!