May 5, 2017
Scotland Celebrate the Home of Whisky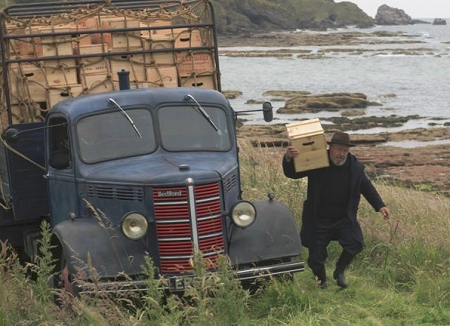 Classic story 'Whisky Galore!' back on the big screen
#ScotSpirit
As people across the globe prepare to raise a dram in celebration of World Whisky Day on 20 May, it is the perfect time to regain a thirst for the 'Water of Life' and embrace all things Scotch whisky, with some incredible festivals, tours and experiences all in honour of Scotland's national drink.
It is also the ideal opportunity to reacquaint oneself with the classic story Whisky Galore!, originally written as a novel by Compton Mackenzie, which was made into a film in 1949.  It has been re-made for a new audience: the new version starring Eddie Izzard, Gregor Fisher and Game of Thrones' James Cosmo has been shot at various locations in Scotland and will be sailing onto UK film screens from 19 May.
With well over 100 distilleries producing five different blends covering five whisky regions, massive festivals, wonderful attractions, and plenty of amazing bars and whisky clubs to delve into, Scotland is the place to enjoy a dram come World Whisky Day and beyond.
Whisky celebrations in Scotland this May
World Whisky Day
Globally – 20 May
World Whisky Day, first created by Scot student Blair Bowman, will see events take place from as far as Australia, China, and Columbia –and all paying tribute to one of Scotland's best exports. Want to go to an event? Check out the website for all events and venue details: www.worldwhiskyday.com
The Whisky Pocket Guide is also available: www.whiskytubemap.co.uk
Islay Whisky Festival
Feis Ile, 26 May – 3 June
Isle of Islay
Islay is home to seven distilleries, including Lagavulin, and Laphroaig, with fantastic live music, rip roaring ceilidhs, special tours and all the whisky drinking people can ask for, and hosts a truly spectacular festival to be enjoyed by all. 10 massive events spanning six days, and all in the beautiful surrounds of the island's lush, green landscape. www.islayfestival.com
Stirling Whisky Festival
6 May
Returning for its sixth year, this little festival has gone from strength to strength attracting most of top distilleries from all across Scotland. Attendees will have access to over 100 malts, gaining first-hand knowledge from the makers themselves. Nestled in the iconic and ancient heart of Stirling, and with its famous castle looming over head, this is great event to attend, if not only to bask in Stirling's wonderful allure. www.stirlingwhiskyshop.com
Edinburgh Whisky Stramash
27-28 May
Edinburgh
Scotland's stunning capital mixed with a fantastic whisky festival? What could be better! The Edinburgh Stramash has a wonderfully quirky take on the whisky festival with an ideology of whisky for everyone. Visitors will have 200 different whiskies from around the world to sample, and a number of participatory "experiences" that Stramashers can get involved in. Wonderful food, tastings and all within one of the most iconic cities on planet earth – delightful! www.thewhiskystramash.com/2017
On the Big Screen!
"There is whisky hidden in this town…."
So are the words spoken by Captain Wagget (Eddie Izzard) in Whisky Galore! (2017), which is released in UK cinemas in May. Based on true events, it tells the story of The SS Politician, which was an 8000-ton cargo ship sailing for Kingston, Jamaica and New Orleans with a cargo including 28,000 cases of malt whisky. On 5 February 1941, during gale force winds, she ran aground off the island of Eriskay in the Outer Hebrides. In the story, chaos ensues, as the residents try to keep it secret and the Home Guard who want to capture it.   Scottish locations in the film include Aberdeenshire, Argyll & Bute, Glasgow and Fife.  www.whiskygaloremovie.com
A map of the Scottish locations will be available to download from: www.visitscotland.com/film
Watch the trailer here: https://www.youtube.com/watch?v=WzY3b90FLpY
New Distilleries and Tours coming soon
As the world's appetite for Scotch whisky increases, so does the need for more. Here a number of the new distilleries and tours opening up over next 12 months across Scotland.
Clydeside Distillery and Tour, Glasgow – July 2017
One of the first distillers to be built in Glasgow in a century, the Clydeside Distillery will look to embody a lowland blend mixed with the cities shipping heritage. Sitting along the banks of the River Clyde in central Glasgow, the Clydeside distillery will look start distilling whisky in July, and visitors will be able to watch its creation with tours and tastings beginning at the same time. www.theclydeside.com
Hawick Distillery – summer 2017
The first distillery to open in the borders of Scotland for almost 150 years will begin distilling in 2017! The whisky, which is expected to produce a light, fragrant and floral style of malt whisky, will enter production in the summer, with a small visitor centre and tours following quickly after.
Isle of Raasay Distillery – summer 2017
Situated just a hop from the Isle of Skye, the Isle of Raasay Distillery will offer a signature whisky with a fruity, sweet and lightly peated character. With a visitor centre also due to open, Isle of Raasay Distillery will also have overnight accommodation for members of the distillery's Na Tusairean whisky club. And with the Skye's Talisker and Torabhaig not far away, it could make the perfect short whisky themed getaway. http://rbdistillers.com/scottish-distilleries/raasay-distillery/
Further Ahead?
May isn't the only month for whisky celebrations; check out these events taking place throughout the year.
Edinburgh Whisky Festival – Edinburgh, 17 June
Spirit of Stirling Whisky Festival – Stirling, July 2017
Speyside Whisky Autumn Festival– across Speyside, 22 Sep to 25 Sep
Dramathon – across Speyside, 21 October
Glasgow Whisky Festival – Glasgow, 11 November
For more about whisky in Scotland, including events and downloadable e-books, go to www.visitscotland.com/whisky
For more on films made in Scotland, go to: www.visitscotland.com/film